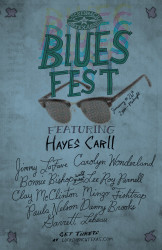 Luckenbach Blues Festival
HAYES CARLL, Jimmy LaFave, Carolyn Wonderland, Bonnie Bishop w/ Lee Roy Parnell, Paula Nelson, Danny Brooks, Clay McClinton, Mingo Fishtrap, Garrett LeBeau
General Admission Tickets available at the Gate $20 for the day
January 26, 2013 2:00 pm
- 11:00 pm
Add to Cal
//=$other_events?>
Time: 2:00pm Day: Saturday
This Event Has Ended
Showtimes
6:00 pm
Bonnie Bishop w/ Special Guest Lee Roy Parnell
9:00 pm
Carolyn Wonderland
It's 6th ANNUAL Luckenbach Blues Festival!  
Ticket Booth opens at 12 noon for Will Call and  General Admission/Grounds
General Admission/Outside Grounds tickets are available at the gate, day of show $20.   Lawn chairs are allowed and encouraged for outdoor seating.  No coolers please.  We will have outdoor heaters and the Fire Pit will be going.  Rain or Shine...watch the weather!
Please Note...VIP Dance Hall Seating is Sold Out
Here's the line up....
HAYES CARLL
Carolyn Wonderland

Jimmy LaFave

Mingo Fishtrap

Bonnie Bishop w/ special Guest Lee Roy Parnell   BONNIE'S WEBSITE

Clay McClinton
Paula Nelson
Danny Brooks
Garrett Lebeau
Advance Dance Hall tickets are $30pp (limited to 400)
Day Of Show GROUNDS only tickets $20pp (unlimited) BRING LAWN CHAIRS
Kids 12 & Under Free. 
Dogs - welcome on leashes :)
Hayes Carll

Joshua Hayes Carll, known as Hayes Carll, is a singer-songwriter from The Woodlands, Texas (a Houston suburb). He is currently signed to Lost Highway Records. If you haven't already heard of Hayes Carll, you soon will. In the three years since his self-released second album, Little Rock became available, Carll has toured relentlessly in North America and abroad (performing over two hundred shows a year), founded a successful singer-songwriter music festival on the Gulf Coast of Texas, secured…
Jimmy LaFave

Jimmy LaFave was born on July 12, 1955 in Wills Point, Texas, a small town 30 miles east of Dallas. He began school down the road in Mesquite and by Junior High was making music perched behind his Sears & Roebuck drum kit. It was in this landscape that he began to define his sound and soak up a combination of his experiences among authentic songwriters from the tradition of Woody Guthrie. Before leaving Oklahoma for Austin, Jimmy…
Clay McClinton
Mingo Fishtrap
www.mingofishtrap.com
With a sound dancing between gutbucket soul, N'awlins grit-down funk and horn fueled Motown pop, Mingo Fishtrap is an anomaly in the contemporary music scene. With each album, the group gravitates closer to the classic sounds that inspired them to learn their craft. What's old is new again; with young audiences flocking to see a live show that lays its musical roots more in 1969 than 2011. And that's just fine with bandleader Roger…
Paula Nelson Band
Carolyn Wonderland

Carolyn Wonderland (Carolyn Wonderland (b. 1972) is a U.S. blues singer, songwriter, and multi-instrumentalist. Born Carolyn Bradford in Houston, Texas, she dropped out of Houston's Langham Creek High School to pursue her musical ambitions. In 1999, she moved to Austin, Texas. Wonderland's instrumental abilities include guitar, slide guitar, mandolin, trumpet, and piano. Although primarily a blues artist, Wonderland likes to incorporate elements of country, swing, zydeco, surf, gospel, soul, and cumbia into her musical mix.

…
Danny Brooks
Lee Roy Parnell

Lee Roy Parnell (born December 21, 1956) is an American country music artist. Active since 1990, he has recorded eight studio albums, and has charted more than twenty singles on the Billboard Hot Country Singles & Tracks (now Hot Country Songs) charts. His highest-charting hits are "What Kind of Fool Do You Think I Am" (1992), "Tender Moment" (1993), and "A Little Bit of You" (1995), all of which peaked at #2. Four more of his singles have…