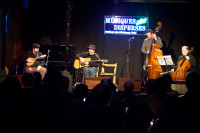 Walking Willows
July 15, 2012 7:00 pm
- 10:00 pm
Add to Cal
//=$other_events?>
Time: 7:00pm Day: Sunday Ages: All Ages
This Event Has Ended
The WALKING WILLOWS are the new band of acoustic guitarist, vocalist, award winning songwriter and composer Stephen Cohen and double bass player, pianist, vocalist and arranger Rich Hinrichsen. They perform melodic, "emotionally gripping", creative acoustic music. The two started playing together in 2007, when Rich joined Stephen's legendary ensemble, the Tree People. The WALKING WILLOWS also feature a rotating roster of guest musicians on cello, voice, percussion, mandolin and other instruments.

The Tree People were a creative acoustic music ensemble originally formed in the late 1970's in Eugene, Oregon. Founding members are composer, songwriter, acoustic guitarist and vocalist Stephen Cohen, and Jeff Stier, who plays recorders, flute and percussion. They performed, at times with third and forth band members, at concerts and festivals in the Eugene area for 7 years. They recorded two albums, The Tree People, in 1979, (which was recorded at Rocking A Ranch, a studio in the woods near Eugene), and Human Voices in 1984.

After the Tree People disbanded in the mid 1980's, founding member Stephen Cohen continued his music career, moving to Portland, Oregon in the mid 1990's, composing music, writing songs, and performing at concerts and festivals across the United States, including the Philadelphia Folk Festival, the Long Island Children's Museum and the Kerrville Folk Festival in Texas (where he was an award winner for songwriting in 2000). He recorded three albums during that period, including his nationally acclaimed 2006 album Here Comes the Band, a children's album, which includes a 20 page illustrated booklet with paintings and drawings by Christopher Shotola-Hardt and lyrics and activities.
Stephen also released "real life and fiction" in 2000 and "Stephen and the Talk Talk Band", an album in which he asked each guest musician to tell a story before leaving the studio and layered some of the stories they told into the music, in 2004.
Stephen all the while was creating visual art and original sculptural percussion instruments using used guitar strings and other found objects, along with woods and metals.
He was featured in a story on Oregon Public Broadcasting's Art Beat show in 2002 about his residency at Wilsonville High School, where he worked with a special education class and several music and art students to produce a CD, Junk Jam and a performance at the Wilsonville Festival of Arts. (He is artist in residency once again at Wilsonville High School this spring of 2012).

Meanwhile, the first Tree People album, originally released in vinyl and sold only in Eugene, Oregon, somehow appeared across the ocean, and was discovered worldwide by record collectors twenty five years after it was first recorded. Stephen was contacted by several record companies, leading to CD and vinyl reissues of the first two Tree People albums by record companies in Japan, Tiliqua,and Spain, Guerssen Records, and Stephen's solo acoustic guitar piece from the first album, The Tree People, "No More School", was included in an acoustic guitar collection, Wayfaring Strangers, Guitar Soli, by the Chicago record company The Numero Group. The Tree People, whose original music was hard to classify the first time around, were now being called "Fathers of Freak Folk" and "Psych Folk Pioneers".
And then the second life of the Tree People began. Stephen and Jeff, with new Tree People member, Seattle double bass player Rich Hinrichsen, (Rich is not only a talented and creative double bass player, but is also a wonderful piano player, arranger, and composer himself, he is also a mathematician, and on top of that he produces a Beatles night every year as a benefit for the Elizabeth Gregory Home) began rehearsing, making new arrangements old material, creating and recording new music, and performing in concerts and festivals throughout the Pacific Northwest, including performances at the Mississippi Studios, the White Eagle and Performance Works Northwest in Portland, the Matrix in Chehalis, Washington, the Upstage in Port Townsend, Washington, and the Arts in Nature Festival and Northwest Folklife Festival in Seattle. They have done two Creative Residencies at Centrum, an art organization in Port Townsend, Washington where Stephen and Rich have started work on the Cistern Symphony, a symphony being created deep underground in the Dan Harpole Cistern in Fort Worden, where Centrum is located. Guerssen Records, of Spain released CD and vinyl editions of a 3rd, new and last Tree People album, It's My Story. Jeff Stier retired from the group after playing on the new album and taking part in his last Tree People performance at the It's My Story release concert at the Old Church in Portland on November of 2010.

Stephen and Rich, with two wonderful Spanish musicians, Jordi Gallen on cello and Hector Beberide Farrus on mandolin, did their last performance under the Tree People name on March 12th, 2011 at the Musiques Disperses Festival in Spain. But the music of the Tree People will live on through their recordings, and with their new band, the WALKING WILLOWS, (you might say an offshoot of the Tree People) Stephen Cohen and Rich Hinrichsen are creating, performing and recording new music-listen to "the Movie Lot" and "Mathematics", with many Tree People songs thrown in for good measure- listen to Stephen and Rich perform "Sliding", "Pot of Gold", and "Space Heater", along with "Hearing Test" live at the Matrix in Chehalis, Washington in April of 2011 in the audio section of this site, and adding new musicians along the way. The story continues!