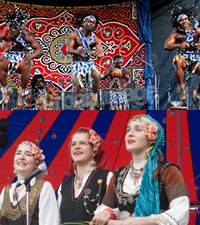 African Showboyz and Black Sea Hotel
July 15, 2012 7:30 pm
- 9:30 pm
Add to Cal
//=$other_events?>
Time: 7:30pm Day: Sunday Doors: 6:00pm Ages: 21+ without parent or guardian Price: $16
This Event Has Ended
On-line ticketing will stop at 2:00 the day of the show.  Tickets will still be available at the door.
Tickets are $16 in advance, $19 day of show (plus $1 service charge). They are also available through Hold My Ticket (112 2nd St SW), 505-886-1251, Monday to Friday, 11 AM-6 PM.
Limited seating available.
21 and over unless accompanied by parent or legal guardian. 
Napoleon, Joseph, Moses, Isaac and JJ Sabbah, all brothers, are the African Showboyz. The boyz were born and raised in Binaba, a small village in the northeast region of Ghana, West Africa.
In Binaba, it is the way of the village for the men to marry multiple wives. The Showboyz are born from the same mother and the same father, though collectively there are 54 children from their father descent. Napoleon, the elder of the brothers, received a vision from his grandfather named Apabum Abugri during a juju practice at a very young age. He was to embark on a world journey in effort to bring recognition to the suffrage of the African people and feed his ever-growing family. Napo engaged Joseph, next of kin; his "backbone," and they made instruments from thigh bones and hides of village kills that had been given to the chief's palace. Isaac was taught village dances to accompany Napoleon's kone and Joseph's siyak, and in 1983 the three Sabbah children set out on two bicycles to play for neighboring villages. In 1987, Isaac learned the bind douk and JJ and Moses were added, playing the bin bill and tonton sanson, and the African Showboyz emerged as Africa's pentacle of conscious musicians. They began touring neighboring countries and performed before enthusiastic audiences in Togo, Benin, Nigeria, Chad, Cameroon, Niger, Senegal, Burkina Faso, Sierra Leone, Liberia, Libya, and Cote d' Ivoire, while collaborating with Fela Kuti, Femi Kuti, Alpha Blondy, Freddie Meiwey, Ras Kimono and Stevie Wonder. It is fascinating to note that while touring in Africa, the brothers carried no documentation but simply performed for immigration officials at the borders and were permitted access.


Affectionately called a "punk rock version of Le Mystere des Voix Bulgares," Black Sea Hotel is a New York based Balkan a cappella trio that recreates traditional Balkan music, generating their own inimitable, gutsy sound. Sometimes lyrical and ethereal, sometimes dissonant and driving, their distinct yet unified voices create a harmonic blend that has often been called haunting and otherworldly. With deep reverence to arranging styles in the canon, Black Sea Hotel finds new ways to use melody, harmony, and rhythm to tell ancient stories which still resonate today. Calling upon such diverse sources as master vocal teachers of the region, archival field recordings, and large mid-century choral arrangements, the trio finds its inspiration in various ways. They then make these songs their own. Sometimes a single, ancient melody is fleshed out into a complex, three-voiced interplay. Other times a large classic choral piece is winnowed down into three encompassing lines. With the sometimes strident, sometimes unearthly textures and overtones characteristic of Black Sea Hotel's music, listeners are often heard to exclaim that they cannot believe the sound is coming from only three voices. Black Sea Hotel's appeal draws a remarkably broad audience. They perform at venues as diverse as concert halls, universities, downtown clubs, folk festivals, and the Bulgarian embassy. They have collaborated with such musical luminaries as Kremena Stancheva of Le Mystere des Voix Bulgares, Shara Worden of My Brightest Diamond, beatboxer Adam Matta of Carolina Chocolate Drops fame, Ansambl Mastika, and Raya Brass Band.
The Cooperage is a full service restaurant/nightclub specializing in steak & seafood, with a large salad bar, good desserts and a full bar.
---