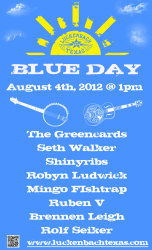 Luckenbach Texas
bLuE DaY in LuCkenBach
bLuEs and bLueGraSS all in one day!!
Outdoor Show
August 4, 2012 1:00 pm
- 11:55 pm
Add to Cal
//=$other_events?>
Time: 1:00pm Day: Saturday
This Event Has Ended
Luckenbach's got the suMMertiMe BluEs!  It's gonna be HOT!  We are  talkin' 'bout the MuSic!  A full day of Blues and Bluegrass!  The Greencards, Seth Walker, Shiny Ribs, Mingo FIshtrap, Robyn Ludwick, Brennen Leigh, Ruben V & Rolf Seiker.  Outdooor show under the shades trees. All ages welcome.  Kids 12 and under are free.  Bring a lawn chair.  No coolers.  No BYOB.  Luckenbach Sells beer and wine.  The Feedlot is open 11am til close.
The Greencards
The Greencards are a bluegrass music band from Austin, Texas, that formed in 2003. The band is composed of two Australians -
Kym Warner
(mandolin) and
Carol Young
(bass) - and
Tyler Andal
of White House, TN (fiddle). According to the band, their music is described as "high energy acoustic music". They have to date released one independent album and two albums through Dualtone, a Nashville label.
Seth Walker
The driving delivery and infectious down-home style of Seth Walker's voice and songs resonate with Blues and Roots music. Although he is heavily influenced by guitar players BB King, T-Bone Walker and Snooks Eaglin to name just a few, Seth also has a great gift for songwriting in the blues idiom. "These songs sound like classic -- matter of fact, they are!" says Chris Tomlin, Gold Record recording artist.
Read more about Seth Walker…
Brennen Leigh
Brennen Leigh is a songwriter, guitar player, mandolin player and singer who tours throughout the United States as well as internationally. Her influences include American songwriters such as Guy Clark and the Louvin Brothers. She was born in North Dakota and lives in Austin, Texas.
Brennen Leigh on Last.fm
.
User-contributed text is available under the Creative Commons By-SA License and may also be available under the GNU FDL.
Shiny Ribs
Mingo Fishtrap
www.mingofishtrap.com
With a sound dancing between gutbucket soul, N'awlins grit-down funk and horn fueled Motown pop, Mingo Fishtrap is an anomaly in the contemporary music scene. With each album, the group gravitates closer to the classic sounds that inspired them to learn their craft. What's old is new again; with young audiences flocking to see a live show that lays its musical roots more in 1969 than 2011. And that's just fine with bandleader Roger…
Robyn Ludwick
Growing up in Bandera, Texas, with her two brothers (
Charlie Robison
&
Bruce Robison
) and a sister, some of Robyn Ludwick's earliest memories are of falling asleep across folding chairs in the dancehalls where her grandparents danced to live music every weekend. As she grew up, listening to the likes of Jackson Browne, Van Morrison and Emmylou Harris, she gave up Friday night football games and high schools proms to sneak off to Austin…
Ruben V