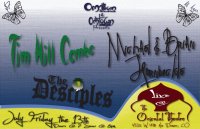 Omtown Presents:
The Hornbuckle Brothers / Desciples / Tim Hill Combo
July 13, 2012 8:30 pm
- 11:55 pm
Add to Cal
//=$other_events?>
Time: 8:30pm Day: Friday Doors: 7:00pm Ages: 18+ / Bar with ID Price: $7
This Event Has Ended
Showtimes
10:30 pm
The Hornbuckle Brothers
The Hornbuckle Brothers

He ain't heavy, he's my brother?
Never have truer words been spoken when spoken aloud in context to the Hornbuckle bros! And, the beauty is, it doesn't matter which way you mean to say it. Michael in reference to Brian or vice versa? Either way it rings home because they are both such extremely talented musicians on their respective instruments that it applies equally. 
A native of Denver, Michael Hornbuckle has played on some of the most renowned stages in Colorado including Red Rocks, Coors Amphitheater, The Fillmore and the Pepsi Center. He played alongside ZZ Top for the Final Farewell Concert at McNichols Sports Arena and for the inaugural concert at the Pepsi Center opening for Freddy Jones. Michael got his start at age 13 when his father, blues legend, Bobby Hornbuckle, put him to work in his band playing drums with brother Brian on bass. Michael calls the next four years spent playing with his father the most important musical schooling that he could have received. After the loss of Bobby in 1996, Michael and Brian started a trio shortly after. Michael made a rather quick transformation from drums to guitar. Michael's soulful sound honors his father with every note. Locally as well as on the road Michael has shared the stage with top class acts including Johnny Winter, The Allman Brothers, Joe Bonnamassa, Tab Benoit, Lynyrd Skynyrd, James Brown, The Doobie Brothers, Coco Montoya, Jim Vaughn and Ted Nugent. Thanx to the many opportunities provided by Lewis & Floorwax from 103.5 the FOX.
Brian Hornbuckle is a third generation musician whose roots lie heavily in the blues.
Playing bass with his father's band at a young age, Brian was quickly educated in the art of performance and professionalism which has served him well over the last 18 years of his professional musical career. After playing bass for several California bands and live and in the studio, Brian was tapped to perform concerts with the platinum selling recording artist Uncle Kracker for various dates around the country.
http://www.myspace.com/michaelhornbuckleblues
http://www.myspace.com/brianhornbuckleband
Desciples

Desciples is a Reggae infused Rock band from Denver, Colorado currently defining and shaping a new genre of music band member Chilli Moreno, dubbed Dreadrock. It's a sound the band has pioneered from artists such as Sublime, 311, Red Hot Chili Peppers, and Bob Marley. 
The band was formed shortly before recording their debut album, "Soul Searching & Couch Surfing" which was released in July of 2010. Written by lead singer and guitarist Stephen Hashbarger, the recordings take you deep into the modern day struggles of life touching on topics such as war, love, and failure through Stephen's profound literary ability. Formed by Stephen Hashbarger and Chilli Moreno in 2007, the two met at an open mic night in Englewood, Colorado. Band Members include: Stephen Hasbarger – lead vocals and lead guitar, Chilli Moreno – percussionist, Tynan Olsen – drums, Terry Burns – bass and Flyin Jay on the keyboard. 
Desciples are one of Denver's premier up and coming bands that are known for their profound lyrics, shredding guitar solos and intense and energetic live performances blended with improvisation. It's impossible not to groove and move to the eclectic sound of Dreadrock. 
"Their occasional punk-rock breakdown or Big-Muff-shredding guitar solo pays direct homage to Brad Nowell while the downbeat, percussion-heavy grooves add the reggae funk rock flavor". – Jeff Otte, Westword.com 
"This album offers up a unique blend of reggae to rock infusion that will nurture your entire being by taking your mind on a trip to paradise, giving your body a reason to groove all while leaving your soul a smile" – Jennifer Farrar Nashville Concert Blogger 
Tim Hill Combo

Tim Hill Combo is a Longmont based Rock / Americana / Blues band  
Band Members:
 Tim Hill: Lead Guitar/vocals, Dave Randall: Bass, Dick Vox: Drums