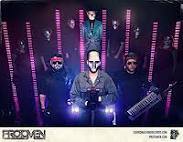 The Protomen
Dinner Delivery 5:30pm-10:30pm daily
September 9, 2012 8:00 pm
- 11:15 pm
Add to Cal
//=$other_events?>
Time: 8:00pm Day: Sunday Ages: 18+ Ages Price: $12
This Event Has Ended
The Protomen is an American rock band best known for composing original concept albums loosely based on the popular video game series Mega Man.[1] The Protomen have achieved a cult following[2] thanks, in part, to an active and vocal internet fan base, intensely theatrical live performances, and a heavy touring regimen.

Little is known about The Protomen, other than the band is based in Nashville, Tennessee.[3] Their stage names are largely references to pop culture films, song titles, and fictional characters. The group members refer to themselves as storytellers, creating a "rock and roll fable";[4] they are not characters in their stories.

The band was composed mostly of MTSU recording program graduates, and first came to be so they could meet class deadlines and the need to record for [their] grades.[1] Their first live performance was in April 2004.[5] Most of the band had graduated and moved to Nashville by 2005.[6]

In a 2009 interview, lead vocalist Panther stated, "We basically gathered up all of our good friends from the local rock bands of Murfreesboro, tied ourselves together, and tried to walk. And somehow it worked. At the time, we noticed a void in rock and roll. A hole that could only really be filled with grown men and women painting up like robots and playing some fierce and furious rock music based on a 1980s video game. We were fairly certain no one else was going to fill that hole. But, by god, it's filled now. You can thank us later."[7]

The band has strong ties to the Murfreesboro and Nashville independent music scene, and some members are integrated into several bands simultaneously.

The Protomen have performed at a number of conventions, festivals and showcases throughout their career.

In 2007, The Protomen played at Capcom's booth at San Diego Comic Con by Capcom's invitation. In 2009, the group competed for and won the right to perform at the Bonnaroo music festival,[14] defeating several other Nashville bands. They played two showcases at CMJ Music Marathon in October of the same year. In 2010, The Protomen took part in the SXSW music festival[15] and the mega-gaming conventions in PAX East in Boston (2010-2012) and PAX 2010 in Seattle. The Protomen have performed at the 2009, 2010, and 2011 Nerdapalooza Festival in Orlando, FL and began their 2011 run at MAGFest 9 in Alexandria, VA. The Protomen have made an appearance at the Middle Tennessee Anime Convention (MTAC) in Nashville, Tennessee twice; once in 2007, and again in 2011.