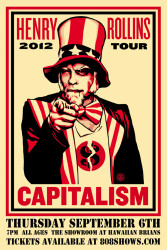 808shows.com presents
HENRY ROLLINS
Henry Rollins: Capitalism
First time performing a spoken word set in Hawaii!
September 6, 2012 8:00 pm
- 10:00 pm
Add to Cal
//=$other_events?>
Time: 8:00pm Day: Thursday Doors: 7:00pm Ages: All Ages
This Event Has Ended
Henry Rollins, performing live in Hawaii.
Spoken Word event that will take him to all 50 states!

Doors open at 7pm... perhaps slightly sooner if we're ready to so a bit early.
Henry performs from approx. 8-10pm (and perhaps longer)

NOTE: There is no opening act or other performance.

We have limited general admission seating for $25, and have sold ALL of the very limited reserved seating that was available for $40.
Tickets are on sale now (until gone or 3pm on 9/6/12, whichever comes first) and then *IF* any remain, they will be available at the door for a higher amount, starting at approx. 7pm
As of 8/30/12 we have approx. 100 tickets remaining.
As of 9/4/12 we have roughly 50 tickets remaining...
As of 9/5/12 we're down to just 36...
Be advised, that at 1pm today... 9/6/12, there are just 10 tickets left, with a mere 2 hours to go for the presale window. 
(Again, we'll run out soon or online sales will end)
Just before 3pm today (9/6/12) our cut-off deadline anyway, we did in fact run out of tickets. Sorry.

Please note:  808shows.com is taking over the entire space... with just one entrance...
so the pool tables, darts area, ping pong section, all arcade games, etc. will NOT be available for use from 7-10pm!
Don't hesitate... tickets are going fast!!!


Questions: Jason Miller -- hwnexp@aol.com
SEATING:
1. "General Admission" -- Limited to 300 tickets... and offered on a first come first served basis, but there is also a small standing room only section near the bar if anyone prefers to stand or we run out of seats. Come early for the best selection.


2. "Reserved" -- SOLD OUT -- Limited to 36, these are the seats shown below that are centered directly in front of the stage, and should have a table.
The "best" available reserved seats will be assigned in the order that they are sold (until gone) and if you purchase multiple reserved tickets, they will be together. All 36 reserved seats will be marked/held for you, and require a special wristband so that there is no confusion.  Everyone will receive 1 of 2 colored wristbands that will indicate reserved seating, by row 1 or 2, which is based upon your purchase date & time. Each row has 18 seats to be filled until gone. The doors open at 7pm (or slightly sooner if ready to go) and the show starts at 8pm
Below is a rough idea of the layout for this event.
Again, general admission seats are first come, first served.
Reserved seats are an exception but those sold out the first day.


Our goal is to have enough seats for everyone and we're working with the venue to do so but only time will tell.
Close-up of the Reserved Seats section:
Henry Rollins
Henry Rollins (born February 13, 1961 as Henry Lawrence Garfield) is an American Grammy Award-winning alternative rock singer and songwriter, spoken word artist, book author (prose and poetry), radio and TV personality, occasional movie actor, comedian, and voice-over artist. He is perhaps best known for his work with the hardcore punk band
Black Flag
from 1981 to 1986, and for leading the Rollins Band since 1987.
Read more about Henry Rollins…