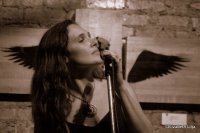 Jennifer Peterson and Creekstone
September 7, 2012 7:00 pm
- 10:00 pm
Add to Cal
//=$other_events?>
Time: 7:00pm Day: Friday Ages: All Ages
This Event Has Ended
Jennifer Peterson & Creekstone is a vibrant trio from Taos, New Mexico whose music can best be described as Americana with influences of blues, bluegrass, pop and country.
.
Front-woman, Jennifer Peterson has developed a loyal following of listeners who enjoy her honesty and ability to connect with her audience. Her live performance is powerful with bold lyrics, contagious melodies, and a song-writing style that upholds a tradition of powerful women in music. She has opened for Gretchen Wilson and Kenny Rogers and performed at the legendary Birchmere (Alexandria, VA), Park West (Chicago, IL), the Chicago Cultural Center, The Joint/Hard Rock Casino (Las Vegas, NV), Summerfest - "The World's Largest Music Festival" (Milwaukee, WI), and two of the largest country music festivals, Country USA (Oshkosh, WI) & Countryfest (Cadott, WI).
.
Most recently, Jennifer was featured in the book, "Their Love of Music" by photographer Steve Azzato, along-side 116 other musicians including Aaron Neville, Buddy Guy, Dave Brubeck, Nicholas Tremulis, Shawn Colvin, Steve Miller, Tift Merritt and many others. (Quiet Light Publishing, November 2010)
.
Guitarist, Randy Morris was born into a family with a long history of musicians including a great-uncle (Charlie Morris) who played with jazz legend, Glenn Miller, during the swing era. Randy has been known as an accomplished left-handed drummer for most of his life. In the 90's his band toured as the opening act for Counting Crows and Live playing at many of the countries largest arenas.
.
Eventually, Randy became more interested in song-writing and picked up a guitar as a mechanism to assist him. He has become so adept on guitar, and now banjo, that many people are surprised to hear that he was originally a drummer.
.
Randy and Jennifer began writing and recording together. Their songs have received many accolades including songs being chosen by the "Song of the Year" songwriting contest as a 2009 Runner-Up for "Home" and as a 2010 Semi-Finalist for "Taking Me Back to You".
.
Originally from Chicago, they relocated to New Mexico in 2008 and joined forces with mandolin player, Dan Irion, to complete their sound. They are often joined on stage by Patrick Turnmire (percussion), Matthew Lynne Morris (guitar and dobro) and bluegrass player, Don Richmond (pedal steel, fiddle, banjo).
.
In November of 2010, they released their first cd as Jennifer Peterson & Creekstone. "'Going Home' is a beautifully crafted set of songs that rides the waves of the journey that begins with longing, turns into searching and ends in finding where we belong. [Jennifer] Peterson's soulful voice and the sensitive and compelling instrumental backbone created by the boys of Creekstone snag the heart and take it traveling." (Ariana Kramer, Taos News)
.
The cd has prompted an out-pouring of excitement and support among listeners. Tracks have been added to regular rotation on syndicated radio station, KTAO 101.9FM (Taos), and have also been played in Santa Fe. A video for "Taking Me Back to You" was released in March 2011. Jennifer Peterson & Creekstone have begun working on new material and are enjoying a musically-inspired 2012.