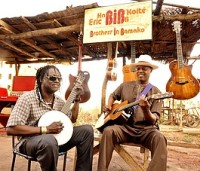 Eric Bibb & Habib Koite
February 10, 2013 7:30 pm
- 10:00 pm
Add to Cal
//=$other_events?>
Time: 7:30pm Day: Sunday Doors: 6:30pm Ages: All Ages
This Event Has Ended
Tickets are $17, $22 and $27.50 (including service charges).
They are also available through Hold My Ticket (112 2nd St SW), 505-886-1251, Monday to Friday 9 AM - 6 PM, Sat & Sun 11 AM - 6 PM.
Directions to the theater:
The theater is on the campus of Albuquerque Academy.
The Academy entrance is located on Wyoming Blvd, North of Academy and South of San Antonio/Harper.
From Wyoming,turn east into the Academy at Burlison.
Make the first left onto the Academy loop road.
Turn left at the first stop sign into the parking area.  
At the end of the lot are two buildings.  Enter between the two buildings and the one on the left (north side) will be Simms.
Malian singer-guitarist Habib Koité and American bluesman Eric Bibb [web site | Amazon.com] join forces in an evening of transatlantic blues. Koité is an internationally loved singer whose popularity has reached the ears of blues, jazz, and pop listeners worldwide, while Bibb performs an uplifting and positive legacy of blues, folk, and gospel. Together they are Brothers in Bamako, combining cultures and music for an evening of true world-class guitar.
"I watched my parents and it rubbed off on me"... this is how Habib Koite traces the origins of his profession and talent as a 20th century griot. He is the heir to an ancestral knowledge set to song that places him among the most influential voices of contemporary Africa. Eric Bibb, who also absorbed some of his talents from family -- he is the godson of Paul Robeson -- has established his name in the new generation of bluesmen without renouncing the legacy of folk and gospel.

So, what could be more natural than for this Malian and African-American and join the rhythms of their guitars and voices in some transatlantic blues?
Mali has rich and diverse musical traditions, which have many regional variations and styles that are particular to the local cultures. Habib is unique because he brings together different styles, creating a new pan-Malian approach that reflects his open-minded interest in all types of music. The predominant style played by Habib is based on the danssa, a popular rhythm from his native city of Keyes. He calls his version danssa doso, a Bambara term he coined that combines the name of the popular rhythm with the word for hunter's music (doso), one of Mali's most powerful and ancient musical traditions. "I put these two words together to symbolize the music of all ethnic groups in Mali. I'm curious about all the music in the world, but I make music from Mali. In my country, we have so many beautiful rhythms and melodies. Many villages and communities have their own kind of music. Usually, Malian musicians play only their own ethnic music, but me, I go everywhere. My job is to take all these traditions and to make something with them, to use them in my music."
Grammy nominee Eric Bibb is a native New Yorker with deep roots in the American blues and folk tradition. The son of 1960s folk and musical theater singer and television personality Leon Bibb, Eric's uncle was the jazz pianist and composer John Lewis of the Modern Jazz Quartet, and Paul Robeson was his godfather. He has toured the world, performing at major festivals like London Blues Festival and Cambridge Folk Festival in Britain, Cognac Blues Festival in France, Byron Bay & Port Fairy in Australia, Vancouver, Edmonton & Calgary Folk Festivals in Canada, Montreal Jazz Festival, Chicago World Music Festival and San Francisco Jazz.
Booker's Guitar, Bibb's 2010 release, was inspired by the discovery of a 1930s vintage Resophonic National steel-body guitar that had belonged to Delta blues legend Booker White—an older cousin to B.B. King. The encounter inspired the album's half-spoken, half-sung title track, which Bibb recorded in England using White's guitar. The remaining tracks, although recorded in rural Ohio on Bibb's own guitars, sprang from the same well of inspiration. Booker's Guitar hit No. 1 on Billboard's Blues Albums Chart and won the 2010 DownBeat Critics Poll for Best Blues Album.
Bibb's latest effort, Troubadour Live, was released in May 2011. Featuring Swedish guitarist Staffan Astner and gospel trio Psalm4, Troubadour Live was recorded in December 2010 at Katalin and All That Jazz in Uppsala, Sweden (about 50 miles north of Stockholm) and captures a powerful live performance in an intimate but emotionally charged setting. "After many ambitious studio albums, I really wanted to document and share with a wider audience what I'd been doing live on stage," says Bibb. "Given my intensive touring schedule over the past couple years, there was a window of opportunity to involve some fine musicians whom I really love working with live as well as in the studio, and it all seemed to come together around this gig."
PopMatters wrote, "Troubadour Live provides a strong take at Bibb's work... he crafts a particular, coherent sound, full of both his musical vision and his personality. Combine that aesthetic with strong performances and fitting guests, and you've got a show worth hearing."
---