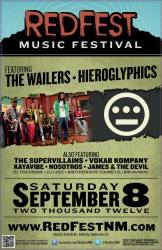 Red Fest 2012
The Wailers - Hieroglyphics
The Supervillains, Vokab Kompany, Kayavibe, James And The Devil, Nosotros, Dj Trichrome, Dj I-Dee, Brotherhood Sound, Dj Breakaway
September 8, 2012 12:00 pm
- 10:00 pm
Add to Cal
//=$other_events?>
Time: 12:00pm Day: Saturday Doors: 11:00am Ages: All Ages Price: $35
This Event Has Ended
The Wailers

There are - at least - two artists by this name. A reggae band and a garage rock / r&b band. 1) Together with Bob Marley, the Wailers have sold in excess of 250 million albums worldwide. In England alone, they've notched up over twenty chart hits, including seven Top 10 entries. Outside of their groundbreaking work with Marley, the Wailers have also played or performed with international acts like Sting, the Fugees, Stevie Wonder, Carlos Santana, and…
Hieroglyphics
The Supervillains
The Supervillains are a reggae/ska band from Orlando, Florida.
Members of band:
Skart: Guitar & Vocals
Dom: Drums & Vocals
Dan: Bass
T-Rex: Keys
The Supervillains on Last.fm
.
User-contributed text is available under the Creative Commons By-SA License and may also be available under the GNU FDL.
Vokab Kompany
Vokab Company has burst onto the scene after quickly ascending the rank of the west coast market.
With relentless drive they have worked to combine high energy stage performances, 7 piece live indie electro hip-hop ( w/ a violinist to boot). with catch hooks and rhythm based harmonic vocal delivery to find themselves emerging from an underground electronic scene that primarily embraces the DJ.
Read more about Vokab Kompany…
Kayavibe

Kayavibe is a reggae/ dance band hailing from the musty shores of South Central Florida. Their mix of contemporary reggae rhythms, combined with the catchy hooks and smooth delivery of vocalist Brandon Gibbons, give Kayavibe a sound that is sure to get lodged in your brain. Jamie Irvin provides the silky smooth guitar solos while bassist Nick Novak, Nathan Joseph and drummer Chris Hiser provide the foot-tapping rhythms. Keep your eyes out for good things to come from…
James and the Devil
Formed in Denver, Colorado, James and The Devil perform their own brand of music, uniquely blending a wide range of influences into their Rocky Mountain made Fiddle Rock. Rhythm Guitarist & Lyricist, Jim Campbell, brings a unique element, providing a clever assortment of song writing, rapping, singing, and pickin' the rhythm while doing it. This guy will write you a love song then rock your face off.
Read more about James and the…
Nosotros