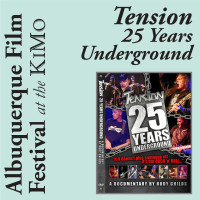 Albuquerque Film Festival Presents
Documentary: Tension: 25 Years Underground (2011)
Albuquerque Film Festival
This film may not be appropriate for children
August 18, 2012 10:00 am
- 11:40 am
Add to Cal
//=$other_events?>
Time: 10:00am Day: Saturday Doors: 9:30am Price: $10
All Associated Events
Day Pass - Saturday
August 18, 2012 10:00 am
- 11:55 pm
Documentary: Tension: 25 Years Underground (2011)
August 18, 2012 10:00 am
- 11:40 am
E.T.: The Extra-Terrestrial (1982)
August 18, 2012 1:00 pm
- 3:00 pm
Shouting Secrets
August 18, 2012 4:00 pm
- 5:30 pm
Repo Man (1984) Followed by Q&A with Alex Cox
August 18, 2012 7:00 pm
Walker (1987) Followed by Q&A with Alex Cox
August 18, 2012 10:00 pm
- 11:55 pm
This Event Has Ended
film!ABQ, Film4Change and The Albuquerque Film Festival bring you the annual Albuquerque Film Festival.

Tension: 25 Years Underground chronicles the band's rise in popularity and how, even through several line-up changes, they stuck to their guns and refused to bow to the demands of record companies. The film leaves you wondering what would have happened to Tension if they had 'sold out' and made it big, and indeed the common notion of success itself. Marty Friedman and Tommy Gattis cut their teeth in this band, and the film opens a time capsule to reveal vintage video footage and unbridled interviews on subjects like how the PMRC helped and hindered 80s heavy metal music, and how 'hair bands' of the time commercialized the public perception of the genre.
Director: Rudy Childs

Film Run Time: 1 hour 38 minutes, This film is not rated and may not be appropriate for children
Concessions will be available.