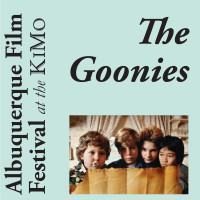 Albuquerque Film Festival Presents
The Goonies (1985)
AFF - Family Movie (Child 12 & under $5.00)
Rated TV14
August 19, 2012 12:00 pm
- 1:55 pm
Add to Cal
//=$other_events?>
Time: 12:00pm Day: Sunday Doors: 11:45am Price: $5 - $10
All Associated Events
Day Pass - Sunday
August 19, 2012 10:00 am
- 10:55 pm
Flock: Web Series
August 19, 2012 10:00 am
- 11:00 am
The Goonies (1985)
August 19, 2012 12:00 pm
- 1:55 pm
Love Free or Die (2011)
August 19, 2012 3:00 pm
- 5:00 pm
Mad Max (1979)
August 19, 2012 6:00 pm
- 7:30 pm
New World
August 19, 2012 9:00 pm
- 10:45 pm
This Event Has Ended
film!ABQ, Film4Change and The Albuquerque Film Festival bring you the annual Albuquerque Film Festival.
Family Friendly: $5 tickets for children 12 and under!

A group of kids embark on a wild adventure after finding a pirate treasure map.
Director: Richard Donner
Writers: Steven Spielberg (story), Chris Columbus (screenplay)
Stars: Sean Astin, Josh Brolin and Jeff Cohen

Film Run Time: 1 hour 54 minutes, This film is rated TV14
Concessions will be available.