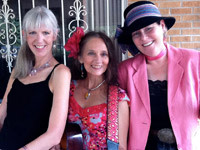 JeeZ LaWeeZ
September 6, 2012 5:30 pm
- 6:30 pm
Add to Cal
//=$other_events?>
Time: 5:30pm Day: Thursday Doors: 5:00pm Ages: All Ages Price: FREE
This Event Has Ended
The exciting new trio Jeez LaWeez features Katie Gill, Amy Blackburn and Nancy Harvin.  Each having paid her dues in her own way, these three women are now doing whatever they want, from original songs to covers of the Beatles, the Talking Heads, and Elvis Costello. The energy of this new group is going to knock the socks off of everyone who experiences them!
Katie Gill has lived in Albuquerque for the past three decades, performing in hotels, restaurants, nightclubs, art fairs, private parties, etc.  Her unique and versatile voice spans folk, pop, country, rock, and jazz.  She works as a soloist, accompanying herself on the guitar, and has been involved in numerous groups and bands playing a variety of genres.  Her voice has been heard on jingles for radio and TV throughout the United States. Her formal vocal/classical training has allowed her to appear in both opera and light opera productions in New York City and in New Mexico.  Katie has performed all over New Mexico with a children's opera company, Opera Unlimited, bringing both music appreciation and education to elementary age children in a fun and creative format. JeeZ LaWeeZ has inspired her to go beyond the guitar and add ukulele, banjo and bring back the world famous kazoo into her repertoire of instruments to give the group a wide variety of sonorities.
Nancy Harvin has written and recorded numerous jingles and songs for radio, television, and one darn cute children's video.  After a years-long hiatus from public performing, she regained her musical chops with the vocal group The Ovarian Cystahs, led by Katie Gill.  Then, along with bandmates Gill and Amy Blackburn, she formed JeeZ LaWeeZ in May of 2011.  She has been playing the bass since late May of 2011.
Amy Blackburn was trained as a classical violinist and played violin and viola in the New Mexico Symphony. She played in several country and western swing bands in the 1970s and '80s, and she has played with the Celtic Fringe in Socorro for many years, as well as Mariachi Azteca.
This is the latest in a monthly series of free events in collaboration with the Friends for the Public Library.
Thanks to Bernalillo County for helping to fund AMP's free community concerts.

---