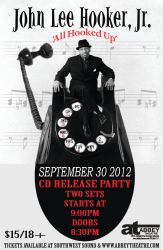 JOHN LEE HOOKER JR
CD RELESE PARTY
Tickets Available at The Door
September 30, 2012 8:30 pm
- 12:00 am
Add to Cal
//=$other_events?>
Time: 8:30pm Day: Sunday Ages: 18+ Ages
This Event Has Ended
With the wind-driven rain pelting the freezing, asphalt street on either side of him, John Lee Hooker Jr. hides under a car, shivering from the torrential elements and his addiction, praying the police will not find him. At this moment over ten years ago, the blues prodigy has a glimpse of his life with God or the devil at his side. Fortunately for him, family, friends and blues lovers, he chooses God.

Born in Detroit, Michigan, Hooker Jr. was exposed to the blues as some children are exposed to a parent who practices carpentry, bricklaying or farming. The son of the blues legend, John Lee Hooker, naturally developed a curiosity and appetite for his father's livelihood. Hooker Jr. performed on Detroit's WJBK radio at the tender age of eight years old and toured with his father throughout his teens. Exposed to blues greats such as, Jimmie Reed, Washboard Willie, and Boogie Woogie Red, little Hooker Jr. would eventually perform his talents at prestigious venues such as Detroit's, Fox Theatre and other upscale Motown clubs in the shadow of his father. By the time little Hooker Jr. turned eighteen, he was a recording artist performing with his father, most notably on John Lee Hooker's, Live at Soledad Prison (ABC Records) release.

The rich heritage of Detroit was very generous to Hooker Jr. on more than one count. Not only was the powerful allure of music intriguing to him, but he also was seduced by the sub-culture life on the streets. During this lull in Hooker's musical quest, he never lost his appetite for stardom but some demons were to be exorcised before he could take his rightful place at the helm. Following the life altering event of his father's death, and with Hooker Junior's strong belief in God, help from family, friends, and fellow musicians, this exorcism was achieved before his first release entitled: Blues With A Vengeance (Kent Records 2004).

In 2010, between sharing the stage with artists such as, Lenny Kravitz, Taj Mahal, and ZZ Top, Hooker Jr. was the musical face of America's prestigious, U.S. Open (CBS). He was also interviewed by the 700 Club, and in 2011, appeared on the cover of Healthy Living magazine. He is currently recording his upcoming project for release in the spring of 2012.

John Lee Hooker Jr. is a living testimony of the fact that your past is just that - your past. Ironically, the same prison that held Hooker was his venue for two separate gigs; one, the place you go as a consequence of bad decisions, the other, a platform to share his musical talents. From San Quentin to Hollywood's red carpet has been an experience few will ever be able to experience. John Lee Hooker Jr. was able to introduce "Blues With A Vengeance" while maintaining a "Cold As Ice" appearance with "All Odds Against" him and sing about it live in Istanbul, Turkey - and ultimately, sharing it with the world. Though all of Hooker's recordings are diverse, they share a common bond. Hooker Jr. is proof that demons can be defeated. Through all his releases, he convincingly displays the years of sacrifice, love and determination on his quest for making his own mark in the music industry as John Lee Hooker Jr. and not just the son of the great John Lee Hooker.