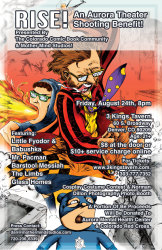 RISE! An Aurora Theater Shooting Benefit
All proceeds of the event will go to AURORA MENTAL HEALTH CENTER, www.aumhc.org/donations.html, & COLORADO RED CROSS, www.coloradoredcross.org.
August 24, 2012 7:02 pm
- 1:02 am
Add to Cal
//=$other_events?>
Time: 7:02pm Day: Friday Ages: 21+ Ages Price: $8
This Event Has Ended
FOR IMMEDIATE RELEASE:
Daniel Crosier
Mother Mind Studios
720-236-6339


COLORADO'S COMIC BOOK COMMUNITY & MOTHER MIND STUDIOS PRESENT, "RISE" A BENEFIT FOR THOSE EFFECTED BY THE AURORA THEATER SHOOTING

BENEFIT INCLUDES LOCAL BANDS, FEATURING LITTLE FYODOR & BABUSHKA, MR. PACMAN, BARSTOOL MESSIAH, THE LIMBS, AND GLASS HOMES, COSPLAY COSTUME CONTEST, PHOTOBOOTH & ART EXHIBITION

Denver, CO - The Aurora community was devastated by the horrendous acts of violence committed against those patrons seeking an escape into film fantasy. The Colorado Comic Book Creative Community & Mother Mind Studios have joined together to help the survivors, victims and their families of these tragic events.

The event will be held on Friday, August 24th, 8pm at 3 Kings Tavern on 60 S. Broadway, Denver, Colorado 80209. Attendees must be 21+ and show proper ID for entry.

The majority of the benefits proceeds will be given to AURORA MENTAL HEALTH CENTER, http://www.aumhc.org/donations.html, & COLORADO RED CROSS, http://www.coloradoredcross.org. If you are not able to attend the event, please donate to these charities so they can continue services to support the survivors, victims, and families.

The evening's festivities will feature performances by local bands LITTLE FYODOR & BABUSHKA, MR. PACMAN, BARSTOOL MESSIAH, THE LIMBS, and GLASS HOMES.

Attendees are encouraged to arrive in costume for the event. Norman Dillon Photography will have a photo booth setup to take professional snapshots for cosplay (costume play) enthusiasts for 20.00, with most of the proceeds donated to AUMHC, and Colorado Red Cross.

Cosplay costume contestants can compete for gift cards and prizes provided by Denver Pavilions.

3 Kings Gallery will also be hosting an exhibition from local artists featured at Denver Comic Con. The art will be donated to Denver Comic Con to later auction off for additional funds for Aurora Shooting victims.

Entry cost $8.00 at door or $10.00 online at http://www.3kingstavern.com. Bring your costumes and creative spirit in support of a good cause. Let's continue the healing process!
For more information please contact Daniel Crosier at or 720-236-6339.