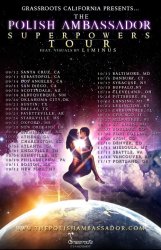 Seafarer ENT Presents
Polish Ambassador | Unlimited Gravity | Elfkowitz
DATSIK AFTERPARTY
November 13, 2012 10:00 pm
- 2:00 am
Add to Cal
//=$other_events?>
Time: 10:00pm Day: Tuesday Ages: 18+ Ages Price: $10
This Event Has Ended
Seafarer Entertainment Presents:

THE POLISH AMBASSADOR
http://www.facebook.com/thepolishambassador
http://soundcloud.com/davidsugalski

GET POLISH AMBASSADORS ENTIRE DISCOGRAPHY FREE
>>>>>> http://bit.ly/HPqlWJ

UNLIMITED GRAVITY
http://soundcloud.com/unlimitedgravitymusic
http://www.facebook.com/UnlimitedGravityMusic

ELFKOWITZ
http://soundcloud.com/elfkowitz
http://www.facebook.com/pages/Elfkowitz/259439167269

Tuesday, November 13th
@ The Top Hat

18+

$10 ADV // $12 DOS
http://www.seafarerentertainment.com
** $5 Surcharge for under 21 **

THE OFFICIALLY UNOFFICIAL DATSIK AFTERPARTY
*** 2$ Discount with a Datsik Stub/Wristband***

The Polish Ambassador is a beat machine from the future. Hailing simultaneously from the far reaches of other dimensional Universes and... Oakland, California, this dude drops his own unique blend of electro-funked, glitch-tweaked, wobble-freaked breakbeats that will have you dropping that bottom like it was 92.....3092, that is.

The Ambassador builds all of his live sets from a monstrous stash of original drums, bass, synth, and vox lines. "No Genre Left Behind," Sugalski jokes as he blends elements of funk, glitch, idm, hip hop, 80s music, jungle, and dub into a beat soup that will instigate healthy doses of booty shake and fist pump.

Claiming to be Poland's ambassador to the Universe, Sugalski has released 5 studio albums, all independently. Diplomatic Immunity in 2007, The Phantasmal Farm in 2008, I Found Him. Now I Must Kill Him in 2009, Mating Season (released under the Ample Mammal alias) and First Words in 2010. All 5 albums have obtained favorable press and achieved regular rotation on college, independent, and internet radio.

Synthesizers and a pure spirit are his primary weapons. Join his army and help Polish annihilate bad beats marring the earth with shame and disgrace.