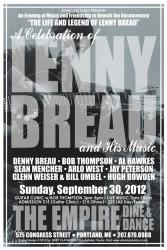 The Big Lenny Breau Music Show
Guitar Clinic, VIP panel discussion on Lenny, Never seen before video clips and sound bites, Big Stage Show, door prizes, etc.
September 30, 2012 3:00 pm
- 11:30 pm
Add to Cal
//=$other_events?>
Time: 3:00pm Day: Sunday Ages: 21+ Ages Price: $15 - $25
This Event Has Ended
Showtimes
3:00 pm
Guitar Clinic with Bob Thomspon
http://portland.thephoenix.com/music/144594-have-you-heard-lenny/
By Sam Pfiefle
As local legends go, Lenny Breau is among the most mythical. From child prodigy to jazz impresario to the bottom of a swimming pool as the result of a never-solved murder. His dad was named Hal Lone Pine. He took inordinate care of his fingernails.
Unfortunately, it's likely more people have heard his name, his idiosyncrasies, and his story, than have heard his music.
As part of an effort to rectify that, a group of friends, admirers, the first man ever to record him, and a filmmaker have come together to create a day in his honor, where you can learn to play like Lenny, see Lenny play in archival footage, and hear a bunch of great guitarists do their best not to let Lenny down.

Read more: http://portland.thephoenix.com/music/144594-have-you-heard-lenny/#ixzz27QgpKWKX
Lenny Breau

Lenny Breau is widely recognised as one of the greatest guitarists that has ever lived. He excelled technically, being able to play bass lines, comp chords and pick out a melody at the same time. As his career progressed his artistic approach to the guitar matured, and he was able to use his mastery of a number of styles, including jazz, country and flamenco, to produce a shimmering, emotionally charged soundscape. His trademark was his use of rapid-fire…