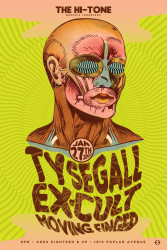 Ty Segall w/ Ex-Cult + Moving Finger
January 27, 2013 9:00 pm
- 11:55 pm
Add to Cal
//=$other_events?>
Time: 9:00pm Day: Sunday Ages: 18+ Ages Price: $10
This Event Has Ended
Ty Segall is an American musician and songwriter. He sings, plays guitar and drums. He has released four solo albums and is a member of the bands The Traditional Fools, Epsilons, Party Fowl, Sic Alps, The Perverts,[3] and Ty Segall Band.

Segall began his recording career as a part-time musician in various underground bands in Orange County and the San Francisco Bay Area, before beginning a solo career in 2008.

Segall's first solo release was the cassette Horn The Unicorn released on the Wizard Mountain label (later re-released by HBSP-2X on vinyl record). Around the same time Wizard Mountain also released a split cassette featuring Segall and the band Superstitions entitled Halfnonagon.

Segall's next album entitled Ty Segall was released on Castle Face Records in 2008. The album was followed by a string of limited 7" singles and a split LP with the band Black Time. In 2009, Lemons was released by Goner Records to positive reviews.[4] This release was followed by another string of successful and limited 7" singles and the LP Reverse Shark Attack an album with longtime collaborator Mikal Cronin.[5]

He is considered to be much evolved from his first album, and more in control of his music and voice, making it seem effortless.[6] His 2011 album, Goodbye Bread, has been called "unadulterated joy" and "the perfect summer companion to Arabia Mountain."[7]

When questioned in regards to his forthcoming and sixth LP, Segall stated; "I want to do a total glam Stooges-meets-Hawkwind or Sabbath, something like that. I think that would be super fun. I want to throw people off. I want to make a really heavy record: evil, evil space rock. Put a little Satan in space and you got the sound."[8]

2012 will see the release of three full-length studio albums for Ty Segall: Hair, with White Fence, released in April, Slaughterhouse, recorded with his touring band and released June 26,[9] as well as one solo album, Twins, set to release on October 9th.