Go Back
Choose Showtime to Buy Tickets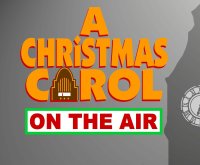 The Egyptian Theatre Presents
A Christmas Carol On The Air
Holiday classic "A Christmas Carol" told as a live radio broadcast...with a few clever twists on the old classic! An original work.
Starring Utah Shakespeare Festival Founder Fred C. Adams as Scrooge.
Ages: All Ages
TICKETS- Reserved Seating: $30 Advance/$35 Door
Front-of-House: $40 Advance/$45 Door; Cabaret Seats $55 Advance/ $60 Door
A Southern Utah University annual holiday classic A CHRISTMAS CAROL ON THE AIR, stars Utah Shakespeare Festival founder, Fred C. Adams as Ebenezer Scrooge.
This "live" radio stage show tells the story of The Wright Brothers, Chick and Stu, and their traveling troupe of players who come to town to spread Christmas cheer to the local community by helping them present a radio version of Charles Dickens' A Christmas Carol. We soon find out that Chick has lost the holiday spirit, which threatens to break up the brotherly bond.  However, when he receives an unexpected visit from a most unlikely soul, he learns, as does Scrooge, that there is much more to life than material desires.  
Written by Sham & Carroll, the creators of the West End musical comedy, LEND ME A TENOR THE MUSICAL, this show is a laugh-filled, heartwarming, holiday treat for the whole family. Originally produced by the Utah Shakespeare Festival in 2004.
Play & Lyrics by Peter Sham   
Music & Score by Brad Carroll
Based on A Christmas Carol by Charles Dickens
Reviews:
"A don't-miss holiday treat! Pure delight...Perfect." ––Kathryn Van Roosendaal, The Daily News
"This is a story with heart...Absolutely delightful." ––Sharon Haddock, Deseret Morning News   
"A new spin on the Christmas classic. Marvelously entertaining." ––Ed Kociela, The Spectrum
 "A timely carol.  Experiencing the play is like going to a happy place...Spectacular...You'll be entertained, uplifted and reminded that charity, compassion and love are the reasons for the season." ––Azul Ribe, The Cedar City Review