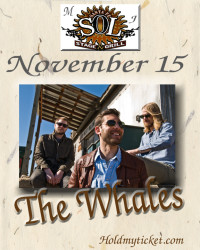 The Whales
Jonah Wisneski/ Maribel
November 15, 2012 7:30 pm
- 10:44 pm
Add to Cal
//=$other_events?>
Time: 7:30pm Day: Thursday Doors: 6:30pm Ages: 21+ without parent or guardian Price: $5
This Event Has Ended
Tapping into the history of rock & roll, the Whales are blending contemporary and classic sounds alike: With rich vocal harmonies, heavy song craft, and an impeccable live show, the band is quickly turning heads with their original blend of blues, americana, soul and rock & roll.

Led by Jonah Wisneski (guitar/vocals) and comprised of Scott Roush
(Drums/Vocals) & Logan Muckler (Bass), the Whales formed following gigs in support of Wisneski's solo debut "Lights" (2011). Building on an already strong catalog of originals, the Whales are constantly adding new songs to their dynamic shows. From heavy hitting blues & high energy rock, to slow winding americana, the band twists and turns through the fabric of American music, while exploring sonic textures with musical prowess and finesse. With shows that top 3+ hours long, the band weaves in and out of various tempos and styles, to find a balance that excites and intrigues the ears of it's listener.