Go Back
Choose Showtime to Buy Tickets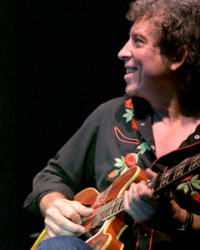 The Egyptian Theatre Presents
Elvin Bishop - Pharaoh Club Seating Still Available. To join call Randy (435) 901-4119
A veteran guitarist who fused the blues with gospel, R&B, and country traditions, he has collaborated with everyone from Jimi Hendrix to Clifton Chenier, Derek Trucks to John Lee Hooker, The Allman Brothers to BB King.
Ages: All Ages
TICKETS: Reserved $40 Advance/$45 Door
Front-of-House $50 Advance/$55 Door; Cabaret Seats $65 Advance/$70 Door
Elvin Bishop Biography:
Founding member of the groundbreaking Paul Butterfield Blues Band, he went solo in 1968, moved to the Bay Area, and continued a music career that's now into its fifth decade. His twenty-some recordings include She Puts Me in the Mood (Blues Boulevard) and a live-in-concert DVD, That's My Thing (Delta Groove) .
2011 - Blues Music Awards nomination for Historical Album of the Year for Chicago Blues Buddies, his collaboration with Little Smokey Smothers. Elvin also co-produced the CD.
2009 - Grammy Nominee for Best Traditional Blues Album for the CD The Blues Rolls On.
2009 - Winner of Best Male Blues Artist in Blues Blast Magazine's readers' poll
2009 - Nominated in an impressive four categories in the Blues Music Awards including Album of the Year, Contemporary Blues Album of the Year, Contemporary Blues Male of the Year and Song of the Year for "The Blues Rolls On" (from the album of the same name).
2006 - Blues Music Award nominee for Contemporary Blues Album of the Year for Gettin' My Groove Back and for Song of the Year for "What the Hell is Going On"
2005 - performed on the Grammy Awards Broadcast with Tim McGraw, Keith Urban, Gretchen Wilson, Lynyrd Skynyrd and Allman Brothers' guitarist, Dickey Betts
1998 - Inducted into the Oklahoma Jazz Hall of Fame
1997 - Elvin's song "She Puts Me in the Mood" from the album Big Fun was featured in the film Jackie Brown - directed by Quentin Tarantino and starring Pam Grier, Samuel L. Jackson and Robert De Niro, among others
1976 Certified Gold single "Fooled Around and Fell In Love" has been featured in films including: Summer of Sam (Spike Lee), Boogie Nights (Julianne Moore, Philip Seymour Hoffman, Burt Reynolds, Mark Wahlberg, Luis Guzmán, John C. Reilly, Don Cheadle, Heather Graham and William H. Macy), The Devil's Rejects(Rob Zombie), Invincible (Mark Wahlberg), Harold & Kumar Escape from Guantanamo Bay, The Family Stone (Dermot Mulroney, Sarah Jessica Parker, Claire Danes and Diane Keaton) and Big Daddy (Adam Sandler and Jon Stewart)
The song was also featured in HBO's series, Entourage, and in an episode of NBC's LAX (Heather Locklear and Blair Underwood). Rod Stewart, Phish and T. G. Sheppard, among others, have also covered the song. Elvin's music has been featured on over 60 CD compilations.
Collaborated with John Lee Hooker, B. B. King, Eric Clapton, Clifton Chenier, Bo Diddley, Warren Haynes, Derek Trucks, George Thorogood, Delaney Bramlett and many more.
In addition to film exposure, Elvin has personally appeared on major TV shows dating back to the UK's legendary Ready Steady Go! to multiple appearances on the classic Midnight Special, and in the films Fillmore and Sgt. Pepper's Lonely Hearts Club Band.