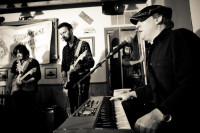 Broomdust Caravan
November 17, 2012 6:30 pm
- 9:30 pm
Add to Cal
//=$other_events?>
Time: 6:30pm Day: Saturday Doors: 4:30pm Ages: All Ages
This Event Has Ended
Juke Joint Honky Tonk Biker Bar Rock and Roll from Santa Fe, Nuevo Mexico!
Felecia Ford -- needs no introduction . . . but -- Hundred Year Flood, the Cherry Pickers, highly respected vocal coach and producer, New Mexico's first call female vocalist, Frogville, Kissing Booth, . . . etc. etc.
Justin Lindsey - Hundred Year Flood, the Strange, Stephanie Hatfield and the Hot Mess -- major up and coming studio guitarist, producer, and engineer. He frickin' rocks.
Johny Broomdust - always seems to figure out a way to put together a band with the finest musicians around -- successful projects have included the Seattle local favorite Broomdust Blues Band, the Johny Broomdust Trio's annual Wild Blue Yonder Tour, and now the mighty Broomdust Caravan!
Greg Butera -- Treemotel, Hannah and the Hanbones, Free Range Ramblers -- most amazing young fiddle player (and multi-instrumentalist) to show up in New Mexico (or maybe anywhere) in the last twenty years.
David Waldrup - New Orleans pro for a decade before he came to Santa Fe - formerly of the Gumbo Project in Santa Fe . . . brings singing and songwriting chops along with that New Orleans groove!
Karina Wilson - Hottest fiddle player west of anywhere!
Special guests like Benito Rose Plaza, Prakash Spex, Tiho Dimitrov, Brant Leeper, Margaret Burke, Joe West, Anthony Leon, Felix Peralta, . . . the list goes on and on
The Carvan released its first CD -- Heavy Rescue -- in 2011. Frogville Records and Bill Palmer!! Thanks to our amazing local radio stations, including KBAC 98.1(santafe.com) and KTAO up in Taos, several of the songs on the CD have gotten lots and lots of local radio airplay. The Caravan has also gotten plenty of attention from local press (check out our clippings on this page).