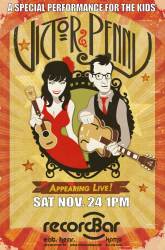 Victor & Penny for the kids
A Fundraiser for Cherry Street Playground
A project by Académie Lafayette in Kansas City on neighbor.ly, a crowdfunding site for civic projects
November 24, 2012 1:00 pm
- 3:00 pm
Add to Cal
//=$other_events?>
Time: 1:00pm Day: Saturday Doors: 12:30pm Ages: All Ages
All Associated Events
Victor & Penny for the kids
November 24, 2012 1:00 pm
- 3:00 pm
The Doo Dads
November 30, 2012 6:00 pm
- 8:00 pm
This Event Has Ended
Victor & Penny
Seminal Kansas City musicians Jeff Freling (Grumpy/Mongol Beach Party/Blue Man Group) and Erin McGrane (Alacartoona) join forces to create a modern spin on the 20/30s jazz/swing sound. 
What is Académie Lafayette?
Académie Lafayette is not only a charter school, a popular public school option in Kansas City, Missouri, but one specializing in French immersion. In 2012, due to a growing student population, the school expanded to two campuses. The new K-2 campus is located in the city's urban core at 34th and Cherry; it provides a second chance for what was once a shuttered elementary school. But the playground at the Cherry Street campus is not finished.
What's the story behind the playground?
At the time of the expansion, the Cherry Street location had been vacant for nearly two years and required an overhaul. Starting in April 2012, parents and staffers painted, scraped, and cleaned to ready the school for an August opening. Funds had been set aside for playground costs, but these were diverted to purchase and install a new HVACsystem. This was something teachers had requested to provide a better environment for students learning a second language. It was much more costly than anticipated.
The playground was essentially a blank slate, an empty stretch of asphalt. Once completed, the playground will be an asset not only to the school, but also a community resource and gathering place for the surrounding neighborhood.
What are the plans for the playground?
The playground design will provide obstacle course style activities, like climbing and monkey bars, to encourage gross motor development. It's a one-of-a kind playground designed by an Académie Lafayette parent, who's also the owner and principal designer of the Kansas City-based architecture and industrial design studio, KEM STUDIO.
Additionally, the playground will also include a track that can be used for running or wheeled toys like scooters, bicycles, or tricycles.
The playground will be available as a play area for neighborhood children after school, on weekends, and during school holidays.
A few vital elements are already in place, thanks to donated funds and materials, and lots of volunteer hours during an EXTREMELY hot summer.