Go Back
Choose Showtime to Buy Tickets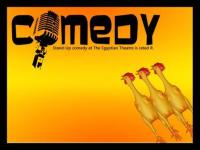 The Egyptian Theatre Presents
Stand-Up Comedy
Headliners Bil Dwyer & Moody McCarthy with local emcee Kathleen McCann
Enjoy the humors of Park City night life!
Ages: All Ages
Tickets: $15 Advance/ $18 Door; Front-of-House $18 Advance/ $20 Door
Cabaret Seats $25 Advance/ $30 Door  
Comedians-
 Moody McCarthy: Moody started doing stand-up in Syracuse, NY, in the 1900s, the golden era of the facsimile machine.  He then    moved to New York City and lived in his sister's basement for 5 years, until she found out.  Now he's above ground, and thanks to  break-out appearances on the Late Show with David Letterman, Jimmy Kimmel Live, and Last Comic Standing, no longer a well-kept  secret. (After an appearance on the re-vamped Star Search, he still was.)
 Moody has distinguished himself with well-crafted material that thrives in any venue, from country clubs to pubs.  Weaving sly jokes  with in-the-moment crowd-work, here is a thoughtful comedian who will enhance any setting.
 Bil Dwyer: Bil is an accomplished stand-up comic, who has allowed his emotional walls to crumble and has opened himself up on  such shows as "The Late Late Show with Craig Kilborn," NBC's "Late Friday," "The Martin Short Show" and his very own half hour  stand-up special "Comedy Central Presents: Bil Dwyer." His takes on marriage, kids and family are hip and sardonic, and yet  beneath lies a certain odd sweetness.
 Besides appearing on great television shows like "The Larry Sanders Show" and "Ally McBeal," Bil has also been in such forgettable  films as "Ski School 2," "The Bogus Witch Project," and "What Planet are You From?." A regular commentator on various cable shows, he is most often recognized for his work on VH1's highly-rated "I Love the..." series. Writing with sitcom star/television producer Christopher Titus, Bil co-created a show based on his stand-up comedy called "Back After This" for Sony Pictures Television.  
Currently, Bil was seen as the host of GSN's all new version of the game show classic "I've Got a Secret" and on Season 4 of NBC's "Last Comic Standing." As for why he did the competition, Bil says "Who doesn't like to be judged? You ever see how happy those dogs are at the Westminster Kennel Club show? That's me- the grinning Pomeranian."