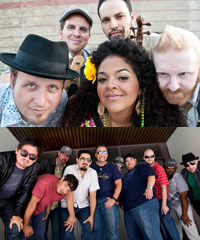 Nation Beat & Grupo Fantasma
February 6, 2013 7:30 pm
- 9:30 pm
Add to Cal
//=$other_events?>
Time: 7:30pm Day: Wednesday Doors: 6:00pm Ages: 21+ Ages
This Event Has Ended
Tickets are $17 in advance, $20 day of show (including a $2 service charge). They are also available through Hold My Ticket (112 2nd St SW), 505-886-1251, Monday to Friday 9 AM - 6 PM, Sat & Sun 11 AM - 6 PM.
The American/Brazilian collective Nation Beat [web site | Amazon.com] plays a 21st century mashup inspired by Brazilian maracatu drumming, New Orleans second line rhythms, funk and country-blues. They're the first American group to record in Brazil with the legendary Mestre Walter and Maracatu Nação Estrela Brilhante - and the first Brazilian band to perform with Willie Nelson, who called Nation Beat "just a fantastic group."
After nine years of experimenting with Northeastern Brazilian music, Nation Beat has released an album that is as deep as their mixed roots, and is their best album to date. Far from being a fusion album, Growing Stone is a record with a complete unity of sound and style. From Forró to Swamp Rock, Maracatu and Funk - the rhythms are grounded by the musicians' own history and years of collaboration. The group is a regular of both American and Brazilian festivals - and this new album should propel them to new heights.
Which nation, and which beat? What makes this group special is that it offers no simple answers. They are rhythm gatherers, harvesting the fruit of 500 years of cultural crossbreeding, which is why the sounds of the northeast of Brazil and the southern United States blend together so seamlessly; NPR's All Things Considered music writer Banning Eyre calls them "the most original and alluring fusion group I have heard in years."
Nation Beat has become a band with its own vocabulary, one that owes everything to its unique history and nothing to ethnomusicology. As drummer and bandleader Scott Kettner puts it , mixing Brazilian and American music "is no longer a concept but rather a way of life.  When I sit down and write a song I'm not thinking about how I can put this rhythm on top of that song and mix it with these chords.  I sit down and write - and Brazil and the USA come out naturally because that's who I am."
Grupo Fantasma [web site | Amazon.com] has been praised as one of the most important independent acts in the Latin genre and has continually defied expectations to create one of the most unique musical voices to come out of the United States in the last decade. In 2011 they garnered further acclaim by winning a Grammy (their second such nomination) for their self-produced release El Existential on Nat Geo Music which the Wall Street Journal called "Latin music both new and traditional…vibrant fusions that transcend easy classification."
The band's incendiary live show, declared by NPR as "seamless whenever and wherever they're on stage" has brought the band to major festivals and venues internationally including Bonnaroo, North Sea Jazz Festival and Lowlands in the Netherlands, Kennedy Center, London's O2 Arena, Montreal Jazz Festival, WOMEX, Tempo Latino (France) as well as two tours to Kuwait and Iraq to entertain US troops. Their diverse spectrum of rabid and devoted fans such as Rodney Anonymous from the Dead Milkmen and Stu Cook from Creedence Clearwater Revival speaks to the ensemble's universal appeal beyond just Latin or world music fans. In addition, they have worked or recorded with Maceo Parker, Sheila-E, Curt Kirkwood of the Meat Puppets, Ruben Ramos, GZA of the Wu-Tang Clan and cult-hero Daniel Johnston. In 2012 they continued to tour the globe with club and festival dates and 2013 will see their next studio release produced by Steve Berlin of Los Lobos.
Grupo Fantasma is a ten piece musical collective formed in 2000 in Austin, Texas consisting of Jose Galeano (timbales, vocals), Kino Esparza (vocals, hand percussion), Adrian Quesada (guitar), Beto Martinez (guitar), Greg Gonzalez (bass), John Speice (drums), Matthew "Sweet Lou" Holmes (congas), Gilbert Elorreaga (trumpet), Josh Levy (baritone saxophone) and Mark "Speedy" Gonzales (trombone).
---