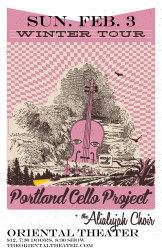 The Portland Cello Project
Alialujah Choir
February 3, 2013 8:30 pm
- 11:55 pm
Add to Cal
//=$other_events?>
Time: 8:30pm Day: Sunday Doors: 7:30pm Ages: 18+ Ages Price: $12
This Event Has Ended
Showtimes
9:30 pm
The Portland Cello Project
The Portland Cello Project
Portland Cello Project's mission is three-fold:
1. To bring the cello to places you wouldn't normally hear it. They've performed everywhere, from touring with heavy metal guitarist Buckethead, to sports bars in Texas, to punk clubs in Boston, to halftime at Portland Trailblazer games, to Millennium Park in Chicago...
2. To play music on the cello you wouldn't normally hear played on the instrument. Everything from Beethoven to Arvo Pärt to instrumental covers of Kanye West and Pantera.
3. To build bridges across all musical communities by bringing a diverse assortment of musical collaborators on stage with them. The PCP has collaborated with musicians such as Peter Yarrow (Peter, Paul and Mary), The Dandy Warhols, Mirah, Laura Gibson, Thao, Eric Bachmann (Crooked Fingers), Matt Haimovitz, Dan Bern, among many others...
Alialujah Choir

Our debut self-titled album can be found through Woodphone Records and Jealous Butcher Records.  It is also available on iTunes and Amazon and at the best local record stores in the country.  The Alialujah Choir is Adam Shearer and Alia Farah of Weinland, and Adam Selzer of Norfolk & Western and M. Ward. Shearer, Selzer and Farah began writing and recording songs at Portland's Type Foundry with no commercial ambitions. They simply wanted to take shelter from the chaos of touring and make music together. Ensconced by friendship and solitude, the trio's shared sensibility to embrace their love for roots folk music has created a beautiful and compelling album.