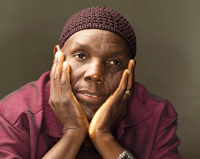 Oliver Mtukudzi & The Black Spirits
Wagogo
March 27, 2013 7:30 pm
- 10:00 pm
Add to Cal
//=$other_events?>
Time: 7:30pm Day: Wednesday Doors: 6:00pm Ages: 21+ Ages
This Event Has Ended
Tickets are $18 in advance, $23 day of show (including a $2 service charge). They are also available through Hold My Ticket (112 2nd St SW), 505-886-1251, Monday to Friday 9 AM - 6 PM, Sat & Sun 11 AM - 6 PM.
The Dirty Bourbon is rigidly 21 and over.  They will not let you in without an ID.  There is limited seating and a great dance floor.

Zimbabwe's pride, most successful artist, and national treasure, Oliver Mtukudzi [web site | Amazon.com] is gifted with a deep and gutsy voice plus a talent for writing songs that reflect on the daily life and struggles of his people. "Tuku," as he is known, began performing in 1977 and has earned a devoted following across Africa and beyond, all the while incorporating elements of different musical traditions. A member of Zimbabwe's Kore Kore tribe, he sings in the nation's dominant Shona language as well as Ndebele and English.
Carefully balancing compelling rhythms and accessible melodies with insightful lyrics, Tuku has built a vast body of work that is politically and socially relevant, yet entertaining and accessible to a worldwide audience. Throughout a career that spans more than 45 recordings and virtually every corner of the globe, he has remained committed to the live music scene of his homeland, where he and his band, The Black Spirits, continually play to enthusiastic audiences in even the most remote regions.
Worldwide response to Mtukudzi's music has been glowing. Parade called him "one of the few genuine innovators of the Zimbabwean music scene," while Prize Beat in his native country proclaimed that his music "has been instrumental in strengthening our freedom, socially, politically and economically." American blues/country/roots artist Bonnie Raitt has referred to him as a cross between soul shouter Otis Redding and reggae legend Toots Hibbert.
Born on September 22, 1952, Mtukudzi learned the importance of social and economic responsibility early in life as the oldest of seven children whose father died prematurely. He got his first taste of pop music success with the 1975 release of his debut single "Stop Before Go." Two years later, he joined the Wagon Wheels, a group that featured Thomas Mapfumo. "Dzandimomotera," his first single with the band, quickly went gold, but Tuku left the band shortly thereafter to pursue a solo career, taking several members of the Wagon Wheels with him and forming the Black Spirits. Their 1979 debut album, Dzandimomotera, also went gold on the fast track.
With Zimbabwe declaring independence in 1980, Tuku and the Black Spirits released Africa, one of the most important albums of its time. With the album's two hit singles, "Zimbabwe" and "Mazongonyedze," the spirit of the fledgling nation was suddenly personified in a single powerful voice. For the next seventeen years, Mtukudzi would maintain a rigorous recording schedule that yielded two albums every year – a feat that cemented his reputation as a prolific songwriter, a highly skilled producer/arranger and a formidable lead singer. A quarter century after his earliest successes with the Black Spirits, he continues to showcase all of these talents and more in live performances that have captivated audiences not just in his homeland but worldwide.
Mtukudzi has become such a force in the musical landscape of South Africa that his name has become synonymous with his style, and "Tuku music" has evolved into something quite distinct from any other Zimbabwean music. Clearly, his cultural influences are evident – the traditional forms of the mbira, the South African mbaqanga style, and the popular Zimbabwean music style called jiti, are all evident in his sound – but these have been distilled into an aesthetic that is now very much his own.
In addition to compiling a vast musical catalog over the past three decades, Mtukudzi has branched out into other areas of creative expression, including film and theater. He participated in several documentaries on Zimbabwean music during the '80s, including the BBC's "Under the African Skies" and "The Soul of the Mbira." In 1990, he played the leading role in "Jit," the first film featuring an all-Zimbabwean cast, and a year later played a prominent role in "Neria," a drama dealing with the complex issue of women's rights in a chauvinist culture (he also composed and arranged the "Neria" soundtrack). He also wrote and directed the musical production "Was My Child (Plight of the Street Children)" in the mid '90s. In the past few years, he has contributed music to more than twenty AIDS-related documentaries that have screened worldwide.
Opening the show is Wagogo. Born, raised and loved in Albuquerque, NM, Wagogo is an ecclectic group of musicians that makes a rhythmic cocktail out of their Chicano influences, Northern Mexico folk songs, warm calypso island grooves, and the captivating spirit music of Zimbabwe. Their lyrics possess an equally enriching quality, and are composed mostly by lead singer Armando Ortega, in a blend of Spanish, English, and the Shona language of Zimbabwe. With such a diverse repertoire, Wagogo inspires a multigenerational crowd to dance and sing, and even gets the old folks weeping with its dedication to preserving the traditional roots of music, in addition to exploring new sounds. Broadcast on radio stations from New Mexico to New York, California, and Zimbabwe, they have been reinvited to the Zimbabwe Music Festival for three years, and have appeared at many other world music festivals. With all the intrigue of the Land of Enchantment, they are definitely a band not to be missed.
---