Go Back
Choose Showtime to Buy Tickets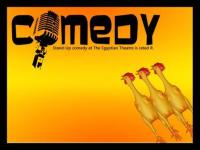 Stand-Up Comedy
Headliners Chris Strait and Lou Angelwolf make light of everyday absurdities. Laughter is contagious-spread it around!
Enjoy a cold beer and the humors of Park City night life!
Ages: 18+ Ages
TICKETS: Reserved Seat $15 Advance/ $18 Door

Front-of-House $18 Advance/$20 Door; Cabaret Seats $25 Advance/$30 Door
Angelwolf has the ability to find the humor in just about everything; from the frustrations of dieting, the absurdities of cable TV, and why teenagers don't pull their pants up! Two decades of experience as a stand-up comedian, radio host, and television personality allow Lou to bring his unique show to audiences all over the world. He has performed everywhere from Canada to the Caribbean, Mexico to Israel, and 44 of the 50 states. He is a regular at Dangerfields in New York & The Improv. He has had television appearances on Comedy Central, as well as MTV. Lou has shared the stage with comics such as, Jay Leno, Tommy Chong (Cheech & Chong), Henny Youngman, Brian Regan, and Larry the Cable Guy, to name a few.
Chris Strait:
Straight headlines comedy clubs, private events, and colleges all over the world. You may see him every week on TRU-TV's,, "World's Dumbest".  You may also have also seen him as a commentator on the E! channel, Fuel TV's "Daily Habit", and the National Lampoon film, "Lost Reality 2″.  He has also done stand-up on Starz and Playboy.  In addition, Strait has entertained the troops in the Middle East, Cuba, Japan, and Europe, and has hosted his own boxing/commentary podcast. www.stickandmoveshow.com /www.str8boxing.com