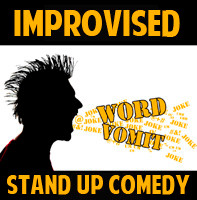 Broad Humor
Word Vomit! Improvised Stand-up Show!
January 19, 2013 10:30 pm
- 11:50 pm
Add to Cal
//=$other_events?>
Time: 10:30pm Day: Saturday Doors: 10:25pm Ages: 16+ Ages Price: $6
This Event Has Ended
Six comics will show up. We'll pick out
their set list. You pick out the winner.

For your $6, Broad Humor will present to you a group of comedians who will come completely unprepared.

Whoa, whoa, wait, wait -- That's the point. We'll pick out the topics they have to talk about in their sets THAT night and they'll compete for your laughs and your votes with material made up right on the spot.

The Word-Nauseated:
Jessica Osbourne
James Morrow
Mike Long
Will Bolt
Barney Lopez


$6! Pick the winner!

Plus! The Box can now validate parking for up to 2 hours!

The show is all ages, but since it is a later in the evening situation, you should know: There will be adult language used.