Go Back
Choose Showtime to Buy Tickets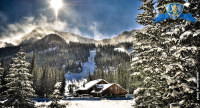 Fondue Night at the Bavarian
Traditional Fondue
Ages: All Ages
Godie Schuetz's Swiss Fondue Night Menu Tuesday Nights ~ Reservations Required (3 course)
Swiss Cheese Fondue (2 people or more)
Alpine Salad, Organic mixed-greens tossed in balsamic-tarragon vinaigrette and sautéed sausages
*** ***
Authentic Swiss cheeses Gruyere, Emmenthaller, & Appenzeller Béarnaise,
Special "Surprise" Dessert
$29.50 per person
____________________________________________
Beef Bourguignonne Fondue (2 people or more)
Alpine Salad Organic mixed-greens tossed in balsamic-tarragon-vinaigrette and sautéed sausages
*** ***
Diced beef tenderloin served with choices of Horseradish, and Curry sauce, according to Godie's recipe accompanied with roasted potatoes and baked tomato
Special "Surprise" Dessert
$44 per person
Wine pairing available.
Reservations taken for seatings at 5:30, 6pm, 7:30, 8pm, 8:30. Free shuttle pick up from the village.
For reservations call 575-776-8020