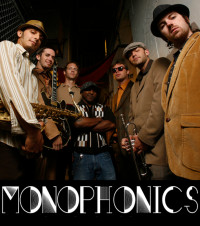 Monophonics
Psychedelic Soul / Funk
Part 1 of Spring Break HQ
March 12, 2013 8:30 pm
- 10:30 pm
Add to Cal
//=$other_events?>
Time: 8:30pm Day: Tuesday Doors: 4:00pm Ages: 21+ without parent or guardian Price: $10 - $15
This Event Has Ended
$10 advance / $12 day of show
Part 2 of Spring Break HQ with B*Side Players: http://holdmyticket.com/event/131728
Part 3 of Spring Break HQ with Polyrhythmics: http://holdmyticket.com/event/130911

Psychedelic soul, sometimes called black rock, is a sub-genre of soul music, which mixes the characteristics of soul with psychedelic rock. It came to prominence in the late 1960s and continued into the 1970s, playing a major role in the development of soul and funk music.

Over the past seven years, Monophonics have staked their claim as one of California's premier band's. Raised amid the Bay Area's rich musical culture, Monophonics has proudly carried on the tradition of music native to their hometown which flourished during the birth of psychedelia.

Monophonics were formed in 2005; originally a instrumental ensemble comprised of guitarist Ian McDonald, bassist Myles O'Mahony, saxophonist Alex Baky, trumpeter Ryan Scott, and drummer Austin Bohlman, the band has recently added the dynamic soul vocals of keyboardist Kelly Finnigan. The result is a psychedelic soul & heavy funk sound, which harks back to the stylings of the late 60's and early 70's, all while keeping its feet planted in the present.

As a mainstay of San Francisco venues such as The Independent & Boom Boom Room, the Monophonics have created a national buzz and fervent local following, sharing the stage & bill with such names as Budos Band, Orgone, Dr. Lonnie Smith, Kings Go Forth, Soulive and many more. Their touring schedule has brought their signature rowdy, hard-hitting live set to over 400 dates from California up to Motown and down to Louisiana establishing themselves as yearly residents at the legendary New Orleans Jazz Festival. The band has also played some of the major music festivals on the west coast including High Sierra, Joshua Tree, Blacksheep Family Reunion, and Las Tortugas.

http://monophonics.com/

Tickets also available at The Coffee Spot or La Bodega Fresca.