Go Back
Choose Showtime to Buy Tickets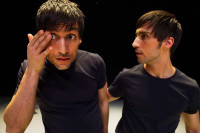 JOURNEYS Spring 2013/ HOW ABOUT YOU?
Conceived and Directed by Philippe Blanchard (FRANCE/SWEDEN)
Performed by Gabriele Stifani and Luca Stifani
Ages: All Ages
February 15-16
Friday & Saturday
7pm: DANCE/How About You? by Philippe Blanchard
with 6:30pm Pre-and 8pm Post-Performance DISCOURSE/Identity & Separation
Receptions/discussions with JOURNEYS dance artists led by writer/poet Hakim Bellamy
On the first of two weekends of JOURNEYS in Dance and Discourse NewArt New Mexico and North Fourth Art Center present a quirky, intelligent and delightful duet danced by identical twin brothers. How About You? is a celebration of life and an exploration of identity. Critically acclaimed by audiences and media alike, the piece presented in the U.S.and Canada for the first time has been selected by various platforms throughout Europe, including Maison des Arts de Creteil in Paris and the Nordic Dance Platform's Ice Hot festival in Stockholm. The audience is invited to stay after the performance for a panel discussion/reception with the artists and Albuquerque Poet Laureate Hakim Bellamy.
The definition of self, the search for oneself in someone else, the possibility of discovering who we are through other people's similarities and differences: Who am i? Who is the other? HOW ABOUT YOU?
Tickets: $15 general; $10 students/seniors
Info/reservations: (505) 344-4542
More Info:
www.locoworld.se/agency/philippe-blanchard
photo of Gabriele and Luca Stifani by Jens Lasthien