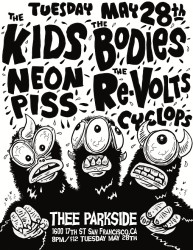 The Kids, The Bodies, Neon Piss, The Re-Volts, Cyclops
May 28, 2013 8:00 pm
- 1:45 am
Add to Cal
//=$other_events?>
Time: 8:00pm Day: Tuesday Ages: 21+ Ages Price: $12

The Kids - One of the first groups in Belgium to really tap into the power of the international punk scene which was erupting in 1976-77 were The Kids. In retrospect, it is a bit foolish to call the Kids a "punk"-group, since they were much too R&B for that, but they certainly communicated the "punk"-feeling.
Front-man Ludo Mariman in "Wit-lof from Belgium": "In 1976 we were together in a band called "Crash". None of us could really play. We just hammered away, hard and fast, sounding like a really bad Velvet Underground. When the first news of the punk explosion in Britain started to come through, I went to London. I wanted to know what was going on over there, and if these guys had the seem feelings of anger I had. I remember the shivers down my spine seeing Eddie & The Hot Rods. I also saw the Ramones and then I knew we had that same music within us. Technically we could handle it, because you don't have to master the instruments to play punk music".
Formed by three angry dock workers, the group evolved from pure energy on the first album to more varied and adult songs. Ludo Mariman on the changes the band went through : "Look, punk may be dead and over. But that doesn't mean we have to go away. We are almost a normal rock band now. We even have a slow song. We play better. We don't spit on the public anymore, now we try to amuse them".
Strangely enough, their two first albums were produced by Leo Caerts, the man who had been a band-leader for the likes of Will Tura etc. and the author of the world hit "Eviva España".
"Bloody Belgium", "Fascist cops", "No Monarchy" and "Rock over Belgium" were the songs which got them started. They played support acts for Iggy Pop and Patti Smith in 1977, and in 1979 they released a single together with Jo Lemaire & Flouze : Jo sang "Tintarella di Luna", the Kids did a cover of "Louie Louie".

The album "Living in the 20th century" became a classic, they even hit the Hitparades with "Dancing".
Their moment of fame however is the brilliant song "There will be no next time".

After the split of the group in 1985, the front-singer of the band Ludo Mariman, a former professional soccer-player for Antwerp, keeps trying to make it in the music business. He sings "Angie" for the LSP-band and returns to the public eye four years later with "You never know what's yours" and has kept on recording ever since. Although his records are always of reasonable quality, he never really manages to produce the excitement which was a trademark for The Kids.
The Bodies - www.vom.com/~radio77/bodies.htm
Neon Piss - www.neonpiss.bandcamp.com
The Re-Volts - www.facebook.com/therevolts
Cyclops - www.facebook.com/pages/Cyclops/166987293370570