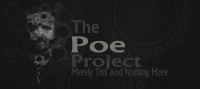 Blackout Theatre Company Presents
The Poe Project: Merely This and Nothing More
March 30, 2013 8:00 pm
- 10:00 pm
Add to Cal
//=$other_events?>
Time: 8:00pm Day: Saturday Doors: 7:30pm Ages: All Ages Price: $10 - $15
All Associated Events
The Poe Project:
March 22 - April 7, 2013
The Poe Project: Merely This and Nothing More
March 22, 2013 8:00 pm
- 10:00 pm
The Poe Project: Merely This and Nothing More
March 23, 2013 8:00 pm
- 10:00 pm
The Poe Project: Merely This and Nothing More
March 24, 2013 2:00 pm
- 4:00 pm
The Poe Project: Merely This and Nothing More
March 29, 2013 8:00 pm
- 10:00 pm
The Poe Project: Merely This and Nothing More
March 30, 2013 8:00 pm
- 10:00 pm
The Poe Project: Merely This and Nothing More
March 31, 2013 2:00 pm
- 4:00 pm
The Poe Project: Merely This and Nothing More
April 5, 2013 8:00 pm
- 10:00 pm
The Poe Project: Merely This and Nothing More
April 6, 2013 8:00 pm
- 10:00 pm
The Poe Project: Merely This and Nothing More
April 7, 2013 2:00 pm
- 4:00 pm
This Event Has Ended
THE POE PROJECT: MERELY THIS AND NOTHING MORE
RUN: March 22 - April 7th, 2013 (Fri through Sun)
CURTAIN: Fri & Sat at 8:00 pm; Sun at 2:00 pm
VENUE: VSA North 4th, 4904 Fourth St NW
TICKET PRICES: General $15; Senior/Student/Military $10;
Blackout Theatre Company is remounting their first ensemble created play, The Poe Project: Merely This and Nothing More. Blackout's ground-breaking production was a major hit with audiences during its first run. . Blackout's remount of The Poe Project: Merely This and Nothing More promises to be dark, eerie and frightening. Blackout's creative take on the works of Edgar Allan Poe is a definite "Must See!"
The play is inspired by the poems, tales and essays of Edgar Allen Poe. Blackout's tale follows Dr. Valdemar Usher, a prolific scientist, lost in his dark experimentations. Dr. Usher is paid visit by an old friend, August Dupine, who brings along a new assistant, Rowena. Dupine hopes that the beautiful Rowena will help guide Usher back to sanity. Can love drag Dr. Usher out of his madness? Or will his scientific passion engulf all who surround him?
The Poe Project: Merely This and Nothing More opens March 22nd and runs through April 7th. Friday and Saturday shows are at 8pm, Sundays at 2pm. Tickets are $15.00 General Admission, $10.00 for Students, Seniors, and ATG members. All Performances will occur at the VSA North 4th Arts Center, located at 4904 4th Street NW, Albuquerque, New Mexico 87107, a half block north of 4th and Griegos. For more information and tickets, visit BlackoutTheatre.com or call (505)672-8648.
POE FESTIVAL
Join Blackout and Duke City Rep for a festival of events celebrating of the life and works of the renowned writer Edgar Allan Poe, the inspiration for both DCRT's "Poe" and Blackout's "The Poe Project: Merely This and Nothing More." Poe-centric activities begin the last week of January and continue through April.
Events include; Po(e)p Quiz at Nexus Brewery, Comedy? Presents Sketchy Poe at The Box Performance Space, The Bells: A Night of Poe Inspired Music at Blackbird Buvette and last but not least, the "Mask of the Red Death" Masquerade Ball at ArtBar!
Visit http://dukecity.wix.com/poefestival for dates and times.