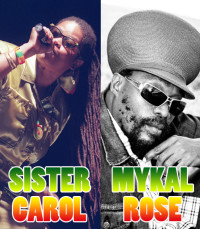 Sister Carol and Mykal Rose
Reggae
April 6, 2013 8:30 pm
- 11:00 pm
Add to Cal
//=$other_events?>
Time: 8:30pm Day: Saturday Doors: 4:00pm Ages: 21+ without parent or guardian
This Event Has Ended
$20 advance / $24 day of show

Sister Carol was born Carol Theresa East, January 15 1959 in Kingston Jamaica. She is also known as the "Black Cinderella" and "Mother Culture". She is a Grammy nominated singer, DJ, songwriter, actress, entrepreneur, educator and humanitarian. A true testament of her resilient spirit and energy spans nearly three decades in a male dominated industry, Sister Carol is a trailblazer for women in reggae. Her music carries a social message for people all over the world. Her message is rich with cultural heritage and infused with a vital social consciousness that permeates every aspect of life in the new millennium. (Hence her title as "Mother Culture") She has maintained a loyal fan base across the globe from Kingston – to Queens, Ethiopia to England, Detroit, Denver, East coast to West coast - Sister Carol reigns as the Queen of Reggae.

For over 25 years, Michael Rose has been recording and performing his brand of militant, hardcore Jamaican music to the delight of reggae fans around the world. As a solo artist, with Black Uhuru, and back as a solo artist, the "Ruff" Rose has achieved great success throughout his career, even as different Jamaican musical styles have phased in and out of popularity. Perhaps the highest profile recognition came in 1984, when Michael Rose and the other Black Uhuru members (Duckie Simpson, Puma Jones, Sly Dunbar, and Robbie Shakespeare) won reggae's first Grammy award for the album, Anthem. With lead singer Michael Rose seemingly at the top of his game, he parted ways with Black Uhuru, with the intention of redefining his musical direction as a solo artist. As such, Michael regularly tours the U.S. and Europe, and has maintained his Jamaican fan base with hit singles on the island and abroad.