Go Back
Choose Showtime to Buy Tickets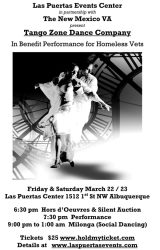 Las Puertas Events Center in Conjunction with The New Mexico VA Presents
Tango Zone Dance Company
In Benefit Performance for Homeless Vets
Ages: All Ages
Evening of Tango to Benefit Homeless Veterans
  Las Puertas Events Center is bringing to Albuquerque, direct from Buenos Aires, the Tango Zone Dance Company in a benefit performance on Friday, March 22, and Saturday, March 23.  All proceeds will go to New Mexico VA programs that help homeless veterans transition to stable homes.
  "There are today as many as 1,200 homeless vets in New Mexico," says Daniel Mintie, a VA social worker.  "Each day, VA programs help these men and women and their children come in from the streets and forests and mesas and finally return home.  We are very grateful to Las Puertas for opening their doors and hearts to these veterans and very excited to be bringing to Albuquerque some of the best dancers in the world."
  Performances begin at 7:30 p.m. and will be held at Las Puertas Event Center, 1512 First Street NW in downtown Albuquerque.  Doors open at 6:30 p.m. for hors d'oeuvres and a silent auction.  Following the performances, Las Puertas will host social dancing from 9 p.m. to midnight. 
  "If you've never tried Argentine tango, this is your chance!" said Mintie, himself a dancer.  "Local dancers will be on hand to help all brave souls take their first steps down the wonderful road that is Argentine tango."
  Tickets for the entire evening  cost $25 and are available at

www.holdmyticket.com

.   Additional event information is available at

www.laspuertasevents.com

.