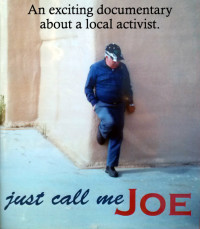 Just Call Me Joe
Documentary
February 16, 2013 7:00 pm
- 9:00 pm
Add to Cal
//=$other_events?>
Time: 7:00pm Day: Saturday Doors: 4:00pm Ages: 21+ without parent or guardian
This Event Has Ended
Some call him a fighter. Some call him a troublemaker. The story of a man who would never give up, "Just Call Me Joe," is an exciting new documentary that continues where "The Milagro Beanfield War" left off.

Joe Cisneros, the inspiration for the activist Joe Mondragon in John Nichols' award-winning novel, has led a forty-year fight against the contaminated mine in Questa. "Just Call Me Joe" illuminates the influence that one man can have on the course of events. Some would say he's the voice that can be found in any town in America, engaged in the impassioned fight for justice. But those who know Joe Cisneros say there's no one like him.

Told through the eyes of those who know him and set in the landscape that has shaped his life, "Just Call Me Joe," is the story of a man who loves a sacred thing – his people and the land they live on.

Donations accepted.