Choose Showtime to Buy Tickets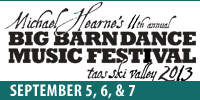 Michael Hearne Big Barn Dance Music Festival
September 5, 6, & 7, 2013 in Taos Ski Valley, New Mexico
Ages: All Ages
This Event Has Ended
Michael Hearne Big Barn Dance Music Festival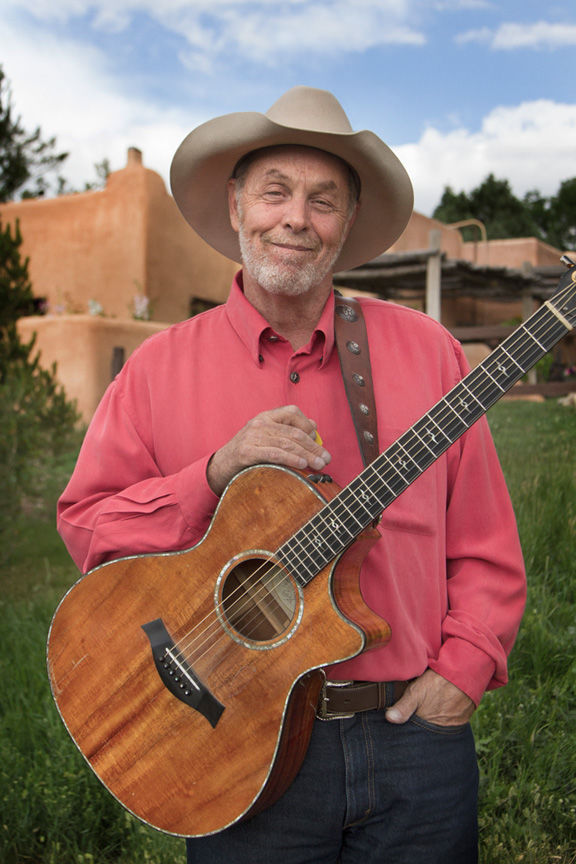 GET READY for world-class music by world-class songwriters and musicians at one of northern New Mexico's most beloved musical events. This year the Barndance takes place in TAOS SKI VALLEY, surrounded by cool alpine beauty at the base of New Mexico's highest peaks. BUY TICKETS NOW!
AND BOOK YOUR LODGING NOW: LIMITED AVAILABILITY on DISCOUNTED LODGING RATES in Taos Ski Valley during Barndance.
This is a RAIN OR SHINE EVENT.... Be sure to bring a blanket, jacket and rain poncho, and dress in layers. Great food and beverages, tee-shirts, CDs and other Barndance merchandise will be available for purchase.
2013 PERFORMANCE SCHEDULE*
*Subject to change.
THURSDAY September 5 – Taos Ski Valley:
2:00-2:40 pm – Thom Shepherd
2:50-3:30 pm – Grace Askew
3:40-4:20 pm – Mike Blakely
4:30-5:10 pm – Sonny Throckmorton
5:20-6:00 pm – Kelley Mickwee (of The Trishas)
6:10-6:55 pm – Owen Temple
7:05-8:50 pm – Susan Gibson
8:00-8:45 pm – Tom Faulkner
8:55-9:40 pm – TBA
9:50-10:35 pm – Max Gomez
10:50-11:40 pm – South by Southwest
FRIDAY September 6 – Taos Ski Valley:
At The Bavarian:
11:00 -11:50 am – Two Bit Palomino
Noon-12:50 pm – Claude Butch Morgan
1:00-1:50 pm – Mike and Jimmy Show
In THE MAIN TENT:
2:00-2:40 pm – Tommy Alverson
2:50-3:15 pm – Alison Rogers Ramsey
3:30-4:10 pm – Honeyhouse
4:20-5:00 pm – Bob Livingston
5:10-5:55 pm – Chuck Pyle
6:05-6:50 pm – Trout Fishing in America
7:00-7:45 pm – Lari White
7:55-8:40 pm – Willis Alan Ramsey
8:55-9:40 pm – Jimmy LaFave
9:50-10:35 pm – Chuck Cannon
10:55-11:40 pm – Zane Williams Band
SATURDAY September 7 – Taos Ski Valley:
10:00-11:00 am – Two Step Lessons w/Sarah Hearne
10:45-11:45 am – Kid's Show w/Trout Fishing in America
Noon-1:00 pm – Songwriter in the Round (Don Conoscenti,
Jennifer Peterson, John Carey)
1:10-2:00 pm – Buzz Cason
2:10-3:00 pm – Jed Zimmerman
3:15-4:05 pm – TBA
4:25-5:15 pm – Bill Hearne Trio
5:35-6:30 pm – Shake Russell Trio w/ Mike Hearne
6:30-7:00 pm – Break (turn the venue)
7:00-8:15 pm – The Rifters
8:30 pm-Midnight – South by Southwest
CLICK HERE for full schedule and downloadable printable version
EMAIL The BIG BARNDANCE
www.michaelhearne.com
Click HERE to book your lodging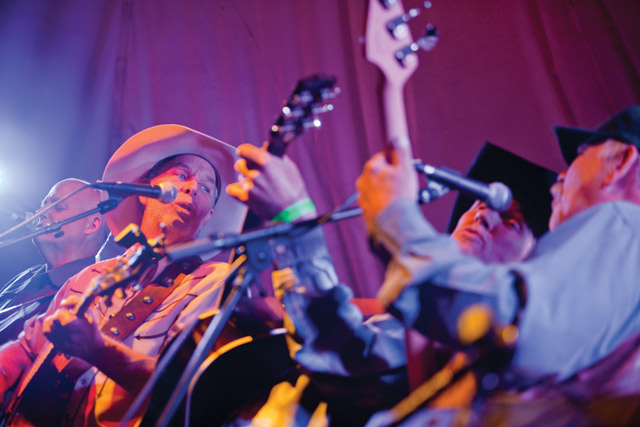 g