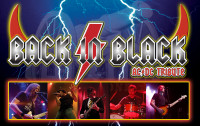 BACK IN BLACK
THE ULTIMATE AC/DC TRIBUTE BAND
Sponsored By: MODERNE PRIMITIVES
May 21, 2011 9:00 pm
- 3:00 am
Add to Cal
//=$other_events?>
Time: 9:00pm Day: Saturday Doors: 5:00pm Ages: 21+ Ages Price: $8
This Event Has Ended
www.backinblack.info
The Black in Black tribute band is an incredible, exciting, high energy reproduction of a concert performance of AC/DC . They were one of the first bands chosen by Live Nation to tour the House of Blues!
Back In Black was formed in late 2001 by former LA bandmates Mike Mroz (Angus) and Darren Caperna (Bon  & Brian). Mike had always recognized the potential of this project due to Darren's uncanny ability to transcend both the spirit of Bon Scott and Brian Johnson into his voice.  Josh Hoover (drums), and Mike Wagner (guitar) were found via an ad in the Dallas Observer.  Cory Helms (bass) was added in 2009 due to his incredible musicianship and voice. The band has created an incredible buzz which has placed them as one of the top drawing tribute acts in North America, performing sold out shows from Puerto Rico to Toronto .   They also performed to over 36,000 people at the Bone Bash in Ft Worth, and have been recruited by Sony Music, AC/DC's new record label, to promote catalog sales.  20th Century Fox have chosen Back in Black over all other tribute bands to record AC/DC's classics "TNT" and "A Long Way to the Top" for two of their movies, Napoleon Dynamite and Garage Days. Annerin Productions has had the band tour major arenas throughout Canada and the U.S.   In 2008, Live Nation chose Back in Black over all other tribute bands to tour all of the House of Blues and other Live Nation Venues.
Back in Black has also performed with Cheap Trick, Foghat, Bad Company, Loverboy, Jackyl, Blue Oyster Cult, Grand Funk Railroad, Head East, Seven Mary Three, Cardboard Vampires, Living Colour, Better than Ezra, Ted Nugent, Warrant, April Wine, Great White, Night Ranger, Violent Femmes and Vince Neil of Motley Crue.