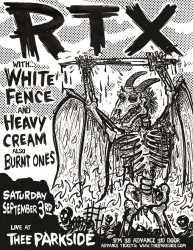 RTX (Jennifer Herrema, Royal Trux), WHITE FENCE (Woodsist), HEAVY CREAM, BURNT ONES
September 3, 2011 9:00 pm
- 1:45 am
Add to Cal
//=$other_events?>
Time: 9:00pm Day: Saturday Ages: 21+ Ages Price: $8
This Event Has Ended
RTX - Royal Trux  were a rock anomaly throughout the '90s. Lead by Neil Hagerty (formerly of Pussy Galore) and Jennifer Herrema, the group swept up particles of mystic space rock, Stonesy twang, and cracked, guttural utterings. Royal Trux were a self-contained plane of droning scuz rock; the flickering pilot lights of Hagerty's jarring guitar psychosis and Herrema's craggy calls navigating listeners through endlessly meandering melodies. Most Trux recordings sounded like a gang of rural meth-lab musicians detoxing on peyote.
 At the turn of the century Royal Trux disbanded, and Jennifer launched into her second band of her career, RTX. This band, from start to finish, is about getting it out in the way you see it in your head without having to pull off to the side. And there's no mistaking RTX's Jennifer Herrema. One hundred percent rock n roll outlaw, all bubblegum pout with a ferocious ball-busting glare that'd make the L.A. chapter of the Hells Angels quiver with fear. She's a true legend. She's been there, done that, jumped on the  devil's back, held onto his horns and rodeo-drove him back to serenity.
White Fence - (Woodsist / Feat. Tim Presley of Darker My love)
www.myspace.com/whitefenceband
Heavy Cream's aura is the color bad. They are three girls and one guy from Nashville, Tennessee that play rock and roll Stonehenge punk. Their music is youth incarnate; fast and loud and exuberant. Ripping through their set with the ferociousness of a mountain lion, their primal beats, catchy riffs and bewitching drones leave you wondering when Joey Ramone and Suzi Quatro had a love child.
'Danny' their debut full-length for Nashville's Infinity Cat Recordings is out right now.
www.myspace.com/heavycreamband
Burnt Ones - www.myspace.com/burntonesforever