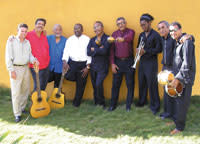 AMP Concerts and the National Hispanic Cultural Center present
Sierra Maestra
April 7, 2012 8:00 pm
- 10:00 pm
Add to Cal
//=$other_events?>
Time: 8:00pm Day: Saturday Doors: 7:30pm Ages: All Ages Price: $15 - $25
This Event Has Ended
Tickets are $15, $20 and $25 (plus applicable service charges). 
Tickets are available through the NHCC box office (and by clicking the button above).
The dance floor will be open!  Come early for a free pre-show dance class taught by Sarita Streng.  The dance class will happen in the Journal Theatre starting at 7:00.  The concert will start at 8.
Get in the Cuban spirit leading up to our show with other Cuban activities around town:
Tuesday, April 3.  Don't know how to dance to Cuban music?  No problem! Come by on Tuesday for dance lessons in Cuban Son at 6:00 and Casino Cuban-style Salsa at 7:00. Son is one of the most beautiful and romantic dances of Latin America.  Born in Eastern Cuba, Son music and dance are still widely danced all over Cuba.  Many consider "son" to be a parent dance of modern-day salsa. Both classes will be taught by Sarita Streng and teaching assistants.  Classes will be held in the PNM Rehearsal Hall upstairs in the Journal Theatre Building of the National Hispanic Cultural Center.  All levels are welcome and no partner needed. Payment is on a sliding scale basis - $2 to $10 donation suggested.
Thursday, April 5. We'll be hosting a Cuban dinner at Havana Restaurant (5331 Menaul Blvd NE - just east of Baillio's). Come join us for an evening of traditional Cuban fare. We'll be offering up entree choices of Puerco Frito (Fried Pork), Ropa Vieja (Beef) and Filete de Pollo (Chicken), with congri (beans & rice), yucca or maduro (plantain) sides. We'd love to fill the restaurant with AMP fans and music lovers. The restaurant will be donating some of the proceeds of the evening back to AMP, so not only do you get good food, but you help us keep bringing bands like this to town too. Dinner will be at 7 and reservations are required.  Click here for reservations.
Saturday, April 7.  Come early for food and a free dance lesson.  

Roxy's Bistro on Wheels

will be holding court outside the performing arts center offering traditional Cuban food with a New Mexico twist, as well as other drink and dining options.  And Sarita will be offering a free Cuban

son

dance class to ticket holders in the theater before the show. The dance class and food will start at 7.  Roxy's will be sticking around until the end of the show in case you have post-show munchies.
Now about Sierra Maestra:
When the nine friends, all students in various engineering faculties at Havana University first decided to form a music group, they were thinking of maybe funk or something Brazilian, both so popular at the time. It was the father of the two brothers in the group, Juan de Marcos and Carlos González, who suggested they play son instead. Calling themselves Sierra Maestra after the birthplace of the music in Eastern Cuba , the group quickly found they were on to a big hit. From 1976 onwards they were popular all over the island and their first album in 1980 an island-wide success. Son was back, after a lull of some 40 years. Having revived it the group became prize winners in Cuba, and started touring internationally.
Down the years Sierra Maestra have always mixed the classics of the Golden Age with newly written songs. As it happens, it's the new songs that have become their most popular. Now, with five of the original members still present, they have gone to great lengths to find young talented writers with new songs that are in this son tradition and style, but expressed in new musical and lyrical directions.
Erden Hernández's lyrics are much more contemporary than usual, escaping the references and stereotypical images of the 40s and 50s. He came through the Nueva Trova "singer/songwriter" style popular over the last 20 years.
Angel Bonne, son of famous composer Enrique Bonne, is also an arranger and composer, formerly with the group Los Van Van, with whom he developed a brilliant new way of arranging the guaracha, without falling back on hackneyed phrasing. His work is very widely known, and Sierra Maestra are delighted that he was kind enough to grant them a song.
Omar Boza is the current director of the Septeto Cubanacan, a regional group in the center of Cuba, who in common with many other groups in the various regions of the country continue along the trail blazed by Sierra Maestra. They have been playing traditional Cuban music for 10 years, giving them enough know-how to compose in this demanding style.  
The youngest writers on this record are too recent to have yet put down deep roots, but their songs are highly melodic with a grasp of tradition equal to the best examples of the 1920s and 30s. From those decades, son's heyday, through Buena Vista Social Club (on which original album two members played) and on to the present day, Sierra Maestra provide the link and continuous thread.
The five musicians - Carlos Puisseaux, Alberto Valdés, Luis Barzaga, Eduardo Himely and Alex Suárez - who date back right to the start, recording the very first album, continue the group's journey. This recording might be the answer to the question the group is almost always asked by the press: "What will happen in Cuba to traditional music when the old guys, the 'originals,' have all gone?" The answer is: "it will continue."
---