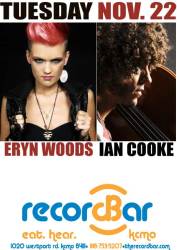 Eryn Woods * Ian Cooke
November 22, 2011 10:00 pm
- 1:00 am
Add to Cal
//=$other_events?>
Time: 10:00pm Day: Tuesday Doors: 9:00pm Ages: 18+ Ages Price: $7
This Event Has Ended
Eryn Woods

"Hollywood:" City of Florescent Lights, fake tans, and bleach blond hair.

"Holl. E. Woods:" The unapologetic underbelly of a city, decorated by society's outcasts, led by
the red-headed mohawk queen, Eryn Woods and the namesake of her latest album.

Recently featured on MTV's The Jersey Shore,VH1's Beverly Hills Fabulous and VH1's Mob Wives. Eryn Woods is a 21 year old Louisiana native out to redefine the image of the "pop princess." The black swan of the bubble gum world, Eryn has been touring the nation and rallying her "kupcake" army in an effort to change the status quo. "Everything isn't glitter and glam, even with all the fame," notes Woods. "It's about finding yourself and maturing, and owning the blood, sweat, and tears, it takes to get there."

Eryn's career gained momentum in 2005 after reaching the semi-finals of Gospel Dream, a nationally televised solo vocal competition, where she caught the eye of Grammy nominated singer Kelly Price. Her musical pedigree includes five years of vocal training and over 12 years of combined musical study.

"Hollywood" conjures up the images of "making it," and this is at the core of Holl.E.Woods. The entire album is centered around the dichotomy of what the general public deems as "normal" and what is "real," and celebrates the individuality of people.

"Gangstas, Geeks & Freaks" is the national anthem of Holl. E. Woods, praising the outcasts that the world shuns. "The world judges people that are out of the norm, but in reality they are the same people who rule the world. It's about accepting your individuality and owning it."

"Laughin at Ya" is a malice response to a relationship gone sour. "Revenge can be sweet, when done with humility and grace," reminds Eryn. " The grass is not always greener on the other side."

Eryn has shared the stage with the likes of Robyn, Hey Monday, and The Ready Set. A favorite among many, she has also performed at major PRIDE festivals across the country. Keep an ear out for future music placements on Showtime, MTV and VH1 to coincide with the album release. Holl. E. Woods is due to hit the streets May 24, 2011.
Eryn Woods

Eryn Woods is a Pop/Alternative-Rock/New Wave songstress. Hearing the one time background singer belt out her musical messages of empowerment for women is like hearing a medley of great rock divas of the past like Janis Joplin, and Carly Simon. The 21-year old Shreveport Louisiana native's vocals are reminiscent of the pop-like, playful vocals of Cyndi Lauper over up-tempo tunes and the rock-like sounds of Pat Benetar when she pours her sultry vocals over her "stay strong with…
Ian Cooke

This lanky pushover makes art for your ears using his cello and voice as core instruments for songwriting. Components of his style are pulled from classical music, pop, folk, avant-garde, world music, and jazz. Cooke's recordings also employ piano and percussion. The piano was his first instrument, which he began playing at age 5, and picked up the cello at age 11. In a live setting, he accompanies himself using a loop pedal to layer his cello.
…