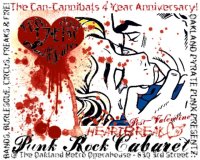 The Can-Cannibals 4 Year Anniversary (Post-Valentine Heart-Break) Punk Rock Cabaret!
February 17, 2012 8:00 pm
- 11:55 pm
Add to Cal
//=$other_events?>
Time: 8:00pm Day: Friday Ages: All Ages Price: $8
This Event Has Ended
The Can-Cannibals 4 Year Anniversary (Post-Valentine Heart-Break) PUNK ROCK CABARET!

Bands! Burlesque! Blood Wrestling! Circus! Freaks! Fire! and HEARTBREAK!

Only 8 bux!

Enjoy...

The Musical Stylings of:
The UNdead Boys!
Bobby Joe Ebola and the Children MacNuggits!
Mystic Knights of the Cobra!
AND Modern Kicks!

(Because nothing says "You're Special" like a mass produced sentiment written by someone else!)

The Dizzying Effects of our Dancing Girls:
Dottie Lux!
Dorian Faust!
Cupcake!
Surly Temple!
Vaudie Va-Boom!
AND The Can-Cannibals!

(Because nothing says "I Love You" like fatty foods and slutty lingerie!)

The High Flyers and Dare Devils who will SET YOUR HEART ON FIRE:
Francine Dead!
Molotov!
Solar Flare!
Ms. Radioflyer!
Zig-Zag!
AND La La Lacerate!

(Because all we know about Cupid is he's FLYING, NAKED, AND DANGEROUS!)

PLUS! BLOOD & GUTS WRESTLING IN YOUR V-DAY FINEST!
Didn't get a chance to wear your new slutty heart printed pink and white lingerie? Or that sexy red dress? Or that nice suit with the "Be My Valentine" boxers? Well, now's your chance!
Challenge the date who stood you up or get out that sexual aggression! Beat your opponent with flowers! Choke them with intestines! Spank them and sit on their face! Winner gets a prize!