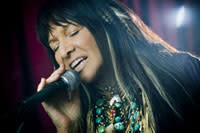 Buffy Sainte-Marie
A Benefit for Roadrunner Food Bank
with Shannon McNally
August 13, 2012 7:30 pm
- 10:00 pm
Add to Cal
//=$other_events?>
Time: 7:30pm Day: Monday Doors: 6:30pm Ages: All Ages Price: $25 - $45
This Event Has Ended
Tickets are $25, $35 and $45 (plus applicable service charges).

This event is a benefit for the Roadrunner Food Bank.  We will be collecting cash and non-perishable food item donations at the show. 
Buffy Sainte-Marie [web site | Amazon.com] was a graduating college senior in 1962 and hit the ground running in the early Sixties, after the beatniks and before the hippies. All alone she toured North America's colleges, reservations and concert halls, meeting both huge acclaim and huge misperception from audiences and record companies who expected Pocahontas in fringes, and instead were both entertained and educated with their initial dose of Native American reality in the first person.
By age 24, Buffy Sainte-Marie had appeared all over Europe, Canada, Australia and Asia, receiving honors, medals and awards, which continue to this day. Her song "Until It's Time for You to Go" was recorded by Elvis and Barbra and Cher, and her "Universal Soldier" became the anthem of the peace movement. For her very first album she was voted Billboard's Best New Artist.
She disappeared suddenly from the mainstream American airwaves during the Lyndon Johnson years. Unknown to her, as part of a blacklist which affected Eartha Kitt, Taj Mahal and a host of other outspoken performers, her name was included on White House stationery as among those whose music "deserved to be suppressed", and radio airplay disappeared. Invited onto television talk shows on the basis of her success with "Until It's Time for You to Go," she was told that Native issues and the peace movement had become unfashionable and to limit her comments to celebrity chat. The next presidential administration, that of Richard Nixon, also came down hard on her, as this was the time of Wounded Knee.
In Indian country and abroad, however, her fame only grew. Denied an adult television audience in the U.S., in 1975 she joined the cast of "Sesame Street" for five years. She continued to appear at countless grassroots concerts, AIM (American Indian Movement) events and other activist benefits in Canada and the U.S. She made 18 albums of her music, three of her own television specials, scored movies, garnered international acclaim, helped to found Canada's Music of Aboriginal Canada JUNO category, raised a son, earned a Ph.D. in Fine Arts, taught Digital Music as adjunct professor at several colleges, and won an Academy Award Oscar and a Golden Globe Award for the song "Up Where We Belong."
Buffy Sainte-Marie virtually invented the role of Native American international activist pop star. Her concern for protecting indigenous intellectual property, and her distaste for the exploitation of Native American artists and performers has kept her in the forefront of activism in the arts for forty years. Since 1969 she has operated the Nihewan Foundation for Native American Education whose Cradleboard Teaching Project serves children and teachers worldwide, free and online.
Her eighteenth album Running for the Drum won Buffy her third Juno Award. Packaged in tandem with the bio-documentary DVD Buffy Sainte-Marie: A Multimedia Life, the two disks together give audiences a glimpse into the life and work of this unique, always current artist.
Opening the show is Shannon McNally, who sings her sly, sultry originals with a voice that combines the ache and silver of Emmylou Harris with the delivery of realists like Townes Van Zandt or Gillian Welch. The New York Times says she's "irresistible," and American Songwriter praised her album Coldwater: "Willfully loose, swampy country-soul tracks, her sensual, humid singing smack-dab in the middle."