Not just a ticketing system
HoldMyTicket is the Solution
---
We provide anyone who sells tickets with a complete ticketing platform and much more. Our robust web-based applications handle all aspects of ticketing and event promotion. Continue the tour to find out more!
Quick and Easy
Online Checkout
---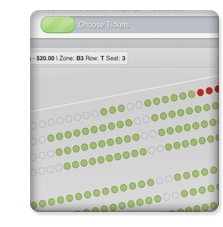 Ticket purchases are made quickly without the time consuming and often annoying process of creating a user account or remembering a password. A valid credit card is all that is necessary to purchase tickets!
On the Move
Mobile Checkout
---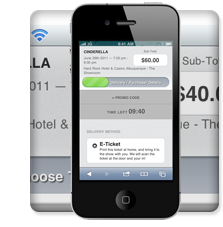 We make it simple for buyers to purchase tickets on phones. Our checkout is optimized for the small screens of smartphones.

Our mobile friendly eTickets with QR codes can be displayed and scanned directly off of the phone at the event saving time and paper!
Solid and Reliable
Online Security
---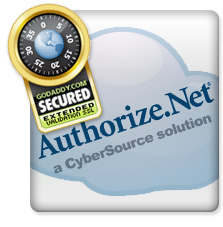 We provide an ultra-secure checkout so that ticket buyers will be confident that their credit card data will never be compromised.

We meet and exceed Payment Card Industry Data Security Standards (PCI DSS), and utilize 256-bit SSL technology for secure transactions.
Sell & Print your own tickets
Box Office Solution
---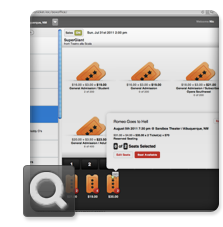 Use HoldMyTicket's point-of-sale application to sell tickets at a venue's box office or other retail location.

Our simple and easy-to-use ticket selling application is easy for any box office employee to learn in a matter of minutes.
Will Call Made Easy
Buyer Lookup & Check-in
---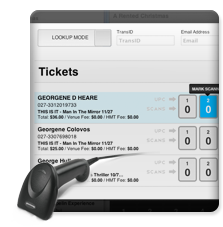 We provide the ability to lookup and/or validate tickets by scanning them with a standard laser barcode scanner or with an Apple® iPod® or iPhone®. By scanning tickets you can track the validation timeline and view attendance statistics in your event reports.

Read more in the 'Validate' section of this tour!
Track Everything
Cash Handling
---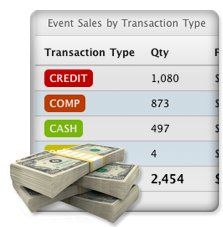 Using our point-of-sale box office software, cash ticket sales are recorded and logged into our secure servers. Every ticket, be it sold for cash or credit, will be accounted for.
Empower Your Team
Manage User Access
---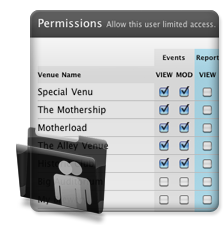 Support for multiple users allows you to work with co-workers or event partners. Each user login can be assigned permissions so you control their access levels.
GENERAL ADMISSION, PREFERRED, VIP
Ticket Types
---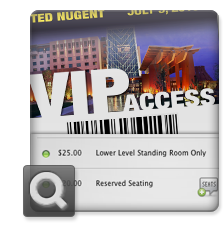 Our software allows you to have multiple ticket types for your events. For example you can have tickets for Adult, Child, VIP, etc. If you're selling tickets at a seated venue you can assign tickets to each section of the venue, in addition to having general admission tickets available.
Will Call, eTickets, Credit Card Entry
Delivery Methods
---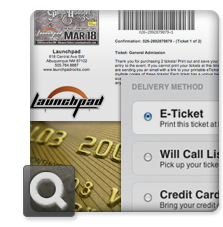 You can choose to have your tickets delivered as print at home 'eTickets' or use a ticketless 'will-call' list to validate entry. eTickets are validated using mobile ticket scanners. You can also easily validate by swiping the credit card used for purchase.
from one to a million
Control Inventory
---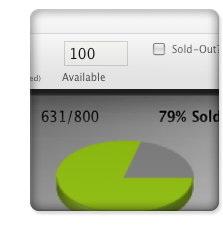 Sell as many (or few) tickets as you want. We do not impose limits or quotas on your event ticket sales.
Need Hard tickets?
Ticket Printers
---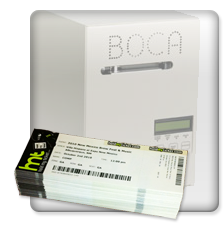 Our software integrates directly into industry standard BOCA® ticket printers. You have the option to run your own box office to sell and print your own tickets. You also have the option to use our ticket stock or create your own custom design.
Enter 'radio7' for half off
Coupon / Promo Codes
---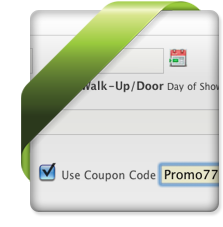 Create as many coupon or promo codes as you want. Great for offering deals to early birds, partners & VIP guests. You control how many deals are available!
Increase Revenue
Convenience Fees
---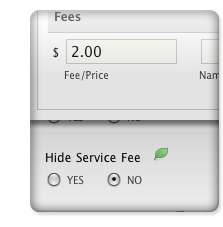 We have some of the lowest fees in the industry, low enough that you can add a fee and still keep the fees lower than our competitors. As a seller you make 100% of ticket face value.

Buyers don't like fees, so why not hide them? You can wrap the ticket face value and fees into one price so what you see is what you pay.
Hassle-Free Assigned Seating
Interactive Seating Charts
---
Mapping Your Venue
If your venue has assigned seating HoldMyTicket will create an interactive seating chart that will allow ticket buyers to choose their exact seats. We also have a "best seats available" option.

We will configure default seating groups for your venue but our flexible seating system will allow you to quickly adjust pricing tiers or to create custom ticket prices in the venue at any time. You can easily create different pricing setups for each event.


Assigning Seats
When creating an event it is simple to assign tickets to the different sections of the venue. It is as easy as creating a ticket price and linking that ticket to the section(s) of the venue.


Selecting Seats
Your patrons will enjoy the freedom and simple process of selecting their own seats when they buy tickets. Buyers are presented with an interactive view of the venue and are able to zoom in/out and pan around to the different sections of the venue until they find the seats that they are looking for.

Unlike other seating chart applications, our checkout is not Flash®-based so it works on iPad®, iPod® & iPhone®!
Ticketing for any kind of event
Venues, Festivals & More
---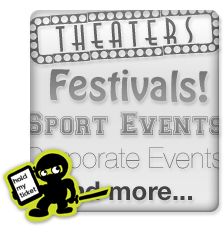 Whether you have many events spread across multiple venues, one-off events, or something in between, we provide ticketing services that will work for you!

Promoters love that they can manage all their events across multiple venues in one central location. See all events in one view, or filter events by venue or use our quick search to pull up any event instantly.
Every Event gets a webpage
Custom Event Pages
---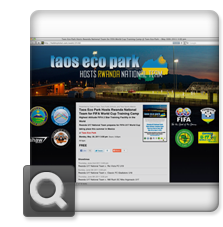 Each event gets it's own page which can be customized into a mini-website with event details, bios, photos, videos, music, maps, etc. You can easily upload background images and customize colors.

Every page is optimized for search engines and has a permalink, a unique url that can be shared across the web.
Easy Event Setup
Publish, Hold, Announce
---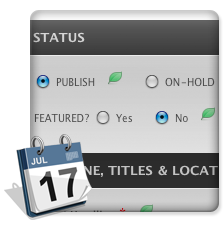 Our user-friendly interface is intuitive and straight forward. Just fill out your event info, attach media and you're ready to publish your event to calendars across the web.

If you're not ready to publish yet, just place your event on hold, or schedule a time to announce your event.
Helpful Tools are Everywhere
Bells & Whistles
---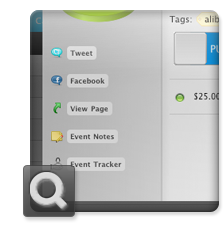 You get every feature imaginable to help you manage your events.

Manage repeating events. Keep track of event specifics with event notes. Share event audits with our password protected event tracker. Specify showtimes, upload event media, the list goes on....
Use your current site or get a new one
Website Integration
---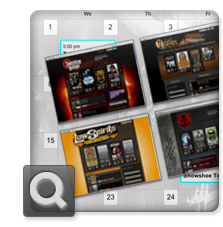 We integrate event calendars into your website so visitors can buy directly from your site. Any event calendars across the web will dynamically update your events as you publish/hold them from your HMT account.

Need a website? HoldMyTicket-fueled websites can be easily maintained with our built-in CMS (Content Management System).
Auto-Tweets
Twitter®
---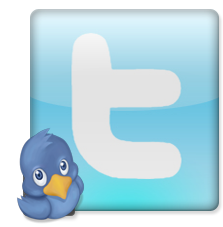 Events can be sent as Twitter® notifications on demand or automatically on the day of the event.

You can also post tweets with real-time updates like event announcements.

Patrons can also tweet about events and ticket purchases.
LIKE / SHARE / RSVP
Facebook®
---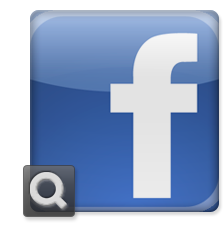 With over 750 million active users and growing, Facebook has become THE place for people to network.

We have a Facebook® app that automatically pushes your events and 'BUY TICKET' links to Facebook.

People can also 'share' or 'like' events from your website, event page or checkout screen.
Get band bios and media easily
Last.fm®
---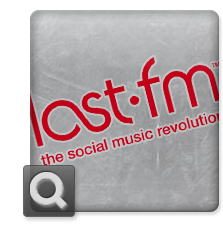 We have integrated with Last.fm's open source database of artist bios and media, making it easier than ever to publish your events complete with artist information and media.

Just attach an artist to an event on Last.fm and that artist's bio and photos will be automatically loaded into the event page!
Embed and Promote
Web Widgets
---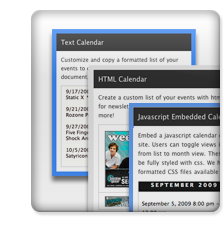 We provide cut-and-paste widgets for flyer slideshows, event calendars, email newsletter signup, buy buttons, calendar icons and more.

Choose between javascript and Flash® methods, customize date formats and layout!
scans link to the event page
Event QR Codes
---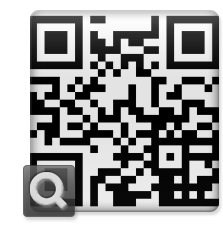 Every event you create has its own unique QR Code! This code will be easily scannable by iPhones® and other smartphone devices. Add these QR codes to your printed flyers so customers can snap a pic with their smartphone and instantly go to the event page to purchase tickets!
Mobile is the future
Mobile Websites
---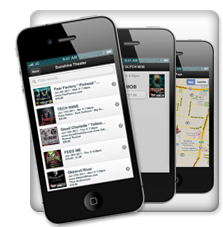 We provide special optimized websites for mobile devices such as the iPhone®, Android® or Blackberry®. Visitors using smartphones will be redirected to the special mobile version for a better user experience. Customers can easily purchase tickets on their way to the event!
Feed your events
iCal, RSS, API...
---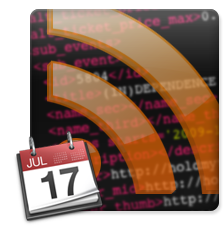 HoldMyTicket provides the ability to push event data to various data protocols. You can easily share iCal or RSS feeds so people can subscribe to your event calendar on their computers or mobile devices.

Our API (Application Programming Interface) allows you to program event data however you need.
See exactly where you stand
Real Time Statistics
---
HMT provides analysis on real-time data, allowing you to track sales and stats. You can view up-to-the-second data of ticket sales, calendar views, event page views, mobile views, API requests and more.

Reports can be broken down by any time frame down to the day. You can filter sales reports by date, venue or event. Daily reports are broken down by event, transaction type and are exportable to excel for easy accounting!
Your accountant is gonna love you!
Detailed Sales Reports
---
HoldMyTicket provides robust reports and audits for cash, credit card and online sales with graphical illustrations. Every conceivable aspect of ticket sales is covered simply and accurately.
The world's greatest
Event Reports
---
We breakdown every event's sales data by ticket type, transaction type, sales source, party size, city, state, page views and much more.

View graphical sales, validation and attendance timelines. The Google map overlay shows you exactly where people are coming from!
Barcode Validation
eTickets & Hard Tickets
---
Wireless Scanning Application
Our free iPhone® app, WeGetIn®, is downloadable in Apple's App Store®, so if you have an iPhone® or an iPod Touch® you're ready to scan eTickets or hard tickets using the camera on your device.

Additionally, we can equip iPods® with a special battery case that has a laser barcode reader and credit card swiper. This scanner runs WeGetIn® and provides the fastest scanning for high-volume entry. Multiple scanners can run simultaneously and communicate with each other in real time, virtually eliminating fraud.
Go Green!
Ticketless Entry Options
---
Electronic Will Call Lists
We offer interactive will call lists that allow you to check attendees in using your iPad®, iPod®, iPhone® or any kind of laptop, allowing you to track attendees and validation stats.


Credit Card Validation
An iPod® scanner equipped with a credit card swiper can be used to validate entrants by swiping the credit card they used to purchase tickets.


Will Call Lists
Print an easy-to-read list of attendees and check them in using photo IDs.


Take your box office anywhere
Mobile Solutions
---
Laptop + Card Swiper + Scanner
With a laptop and a two simple accessories you can take your box office anywhere and have a full-blown mobile box office solution. Attach a USB credit card swiper and you're ready to make credit card sales and use a USB laser scanner to validate tickets.

Our computerized will-call lists can be used to validate entry and keep track of ticket entrants.